Poker Pros Who've Gone From Big Pots to the Big Screen
You'll be hard-pressed to find anyone in poker more famous or with more cameos than Phil Hellmuth. He secured fame, fortune and poker immortality after winning the 1989 world championship. At the tender age of 24, he denied Johnny Chan his third straight title in the process. Hellmuth has gone on to win more WSOP bracelets than anyone, fifteen in all. And has rewritten the World Series of Poker record book with the most cashes, most final tables and most wins. He's world-class. Add to that an exceptional business acumen, and you've got a larger-than-life figure. Someone who's transcended the game.
Nicknamed the 'Poker Brat' for a reason. He has a propensity to throw temper-tantrums at the table, berate his opponents, and generally make a spectacle of himself, especially when the television cameras are rolling. The 55-year old has neatly crafted a bad boy image. And, he's exploited it beautifully. Parlaying his legendary success at the table into enormous opportunities outside of poker, Hellmuth is now a marketing and branding machine who likes to hang with billionaires in private boxes at sporting events. He's written several books, has cameos in commercials, TV shows and music videos. He has even graced the big screen on more than one occasion.
Hellmuth isn't alone. Other greats, like the aforementioned Johnny Chan, a two-time world champ, ten-time bracelet winner and legend of the game, have taken their star power in poker for a screen test in Hollywood. Here are some of our favorite poker pro cameos:
Phil Hellmuth
It's a long way from Madison, Wisconsin, to the Hollywood Hills, but the 'Poker Brat' has made the trip many times. On IMDB.com, his biography lists him as an "actor and writer," who's made cameos in The Grand (2007), Lucky You (2007) and Touch (2012). He plays himself. Or the general character of a poker pro, in each film, and seems to relish every minute of the experience. The odds are long, though, that we'll ever see him thanking the Academy for an Oscar. These are small parts, and Hellmuth is no Robert De Niro.
The bad boy of rap? It may be hard to imagine the tall and lanky Hellmuth starring in a rap video, he stands 6'7 after all, but there is a word for that assumption — Ludacris. In 2010, grammy award-winning rap artist Ludacris released his song Sex Room, which hit number 69 on the Billboard Hot 100, and Hellmuth was featured in the subsequent music video. He is playing poker with the rapper, and winning, and is brandishing a huge smile as he rakes in a massive pot.
He has also cameos as himself in the Showtime series Billions, about a powerful hedge fund manager on Wall Street. The show was created by Rounders co-writers Brian Koppelman and David Levien. The episode in which Hellmuth appeared featured a fictitious Alpha Cup, a high-stakes charity tournament played by various business gurus.
Fun Fact: Phil Hellmuth cameos in a Carl Jr's television commercial, where he is seen doubling down, or you might say 'chowing down,' on one of the American burger giants smoked briskets.
Johnny Chan
If you've seen the movie Rounders, and most who play poker have, then you will remember this iconic scene from one of the all-time classics. Chan's is one of the cameos for the ages. It's a flashback scene that begins with the movie's lead character, a down-on-his-luck Mike McDermott (Matt Damon), walking into a bath house to meet an underground poker shark, Joey Knish (John Turturro), in the hopes of borrowing money. Trying to convince Knish that he's a quality player, and good for the cash, McDermott shares a tale about the time he challenged the legend that is Johnny Chan.
"I know I'm good enough to sit at that table," was how McDermott opened, as he began to reminisce about the day he took a shot against one of the game's greats.
Knish listens intently as McDermott describes the unlikely scenario. He saw Chan walk into the poker room at the Taj Mahal in Las Vegas. Despite being under bankrolled for the kind of high-stakes action Chan is comfortable with, decided to sit down in the same game and test his skills. It's right out of Hollywood too, because McDermott proceeds to confidently describe how he won the battle.
He bluffed a legend, delivering a line that has been used in poker rooms ever since. Incidentally, Chan didn't say a word in the scene, but when you win the main event back-to-back you don't need too. His presence alone was enough. Chan's winning hand at the 1998 World Series of Poker, when he defeated Eric Seidel heads-up, was also forever immortalized in the film.
Fun Fact: Johnny Chan was also cameos in a 2009 Hong Kong movie called Poker King. Again, he played himself.
Amarillo Slim
Known for his poker skills, proposition bets and the gift of gab, Amarillo Slim Preston was the ideal winner of the 1972 world championship. Especially when it came to marketing the game. Remember, in '72, the same year Team Canada beat the Soviets in hockey during the Summit Series? The World Series of Poker was only in its third year. The game was still suffering a shady reputation as an underground pastime. Where nefarious hucksters and hustlers carried concealed weapons while they played. Amarillo Slim wasn't clean-cut by any means, in terms of gambling morals, but he certainly was entertaining. And, he dressed the part too.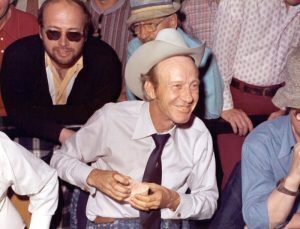 With his trademark Stetson hat and his customary cowboy boots, Amarillo Slim took poker to the masses by going on main stream television. Shortly after capturing the world title, he appeared on The Tonight Show with Johnny Carson. He's also been featured in three documentaries, All In: The Poker Movie (2009), Anything to Win (2006), and Beyond the Felt (2005).
In 1974, Preston played himself in Robert Altman's California Split, starring George Segal and Elliot Gould. The movie tells the story of two friends who descend into the sleazy world of gambling. He had a substantial role.
Daniel Negreanu
When it comes to poker, Daniel Negreanu is box office. He is a draw. Fans worldwide seek out the Canadian for autographs wherever he plays. So, as you might expect, 'Kid Poker' is prone to playing himself on the big screen. His IMDB database profile highlights 10 credits. He's played the role of a poker player in numerous movies, including Bodied (2017), The Grand (2007) and Lucky You (2007).
His most prominent role, albeit a brief one, has to be from the 2009 blockbuster hit X-Men Origins: Wolverine. He didn't get much screen time, but it is worth remembering. The scene revolves around Wolverine (Hugh Jackman) and his clash with Gambit (Taylor Kitsch). A quiet little poker game turns into a highly charged battle between the two superheroes. And Negreanu is in the game, a witness to the ensuing madness around him.
Fun Fact: The Toronto native tested his acting chops for real in Detention, a 2011 comedy, horror, mystery, where a copycat killer named Cinderhella stalks the student body at Grizzly Lake High School. Negreanu played a news reporter.
Phil Laak
A great player, who's appeared in great games? Yes. A great actor, who's appeared in great movies? No. Phil is affectionately known as the 'Unabomber,'. This is for his habit of wearing hoodies, sunglasses and even masks to hide his face at the poker table. He's got one World Poker Tour title and a WSOP bracelet to his name. He will not, however, be adding an Academy Award to his mantle. Most notably, he played a poker player in Runner, Runner, about a shady online poker cat-and-mouse game between a student and a shady offshore entrepreneur.
To Laak's credit, he has given Hollywood a serious go. Perhaps fueled by the backing of his girlfriend actress Jennifer Tilly, Laak has also landed roles in Freelancers (2012), where he plays an undercover detective, Setup (2011) and The Grand (2007).
Fun Fact: In 2008, Laak secured a bit part on the hit television series Knight Rider.
There's no question poker players are great actors in their own element. At the poker table, where they are bluffing and check-raising. But it's a whole different skill set when a director screams, "lights, camera, action". While it's nice to watch them on the big screen, let's just leave the big-time starring roles to the professionals. Which poker pro cameos are your favorite?