»

Play Online Roulette in Canada
Play Online Roulette in Canada
If you're looking for a new and exciting casino game, it's time for you to play roulette online. Considered one of the most popular casino games, roulette has great payout potential and can be one of the more lucrative table games available to play at an online casino. Depending on the bet, you could be looking at a payout of 35 to 1. But what are the odds of that happening?
Since the majority of online casinos offer a roulette option, we've put together a brief guide to help you understand online roulette. That way when you go to play, you've got a great shot at winning some real money.
Where to Play Online Roulette in Canada
What is Roulette?
Roulette was invented by Blaise Pascal in the 17th Century. It involves a dealer or croupier spinning a pocketed wheel. Each individual slot or pocket on the wheel is numbered and is either black, or red. The game begins once the croupier spins a ball in the opposite direction of the wheel. While the wheel is spinning, players have the opportunity to place their bets based on which pocket they believe the ball will land. Players can continue betting until the dealer lets players know they are accepting no more bets.
Once the wheel stops spinning and the ball lands in a particular slot, that determines the winning bet.
As online gambling took off, so too did one of the world's most popular casino games. When playing online roulette, you as the player spin the wheel. However, if you're playing a live roulette game, then it will be like playing at a land-based casino.
The Roulette Wheel
Like we mentioned above, the most standard roulette wheels have numbered pockets from 0-36. Depending on what version of roulette you're playing, these numbers will vary. The original roulette wheel featured 25 pockets and a zero and double-zero slots. When playing online roulette at an online casino, players will likely see variations with 37 and 38 pockets.
The Roulette Table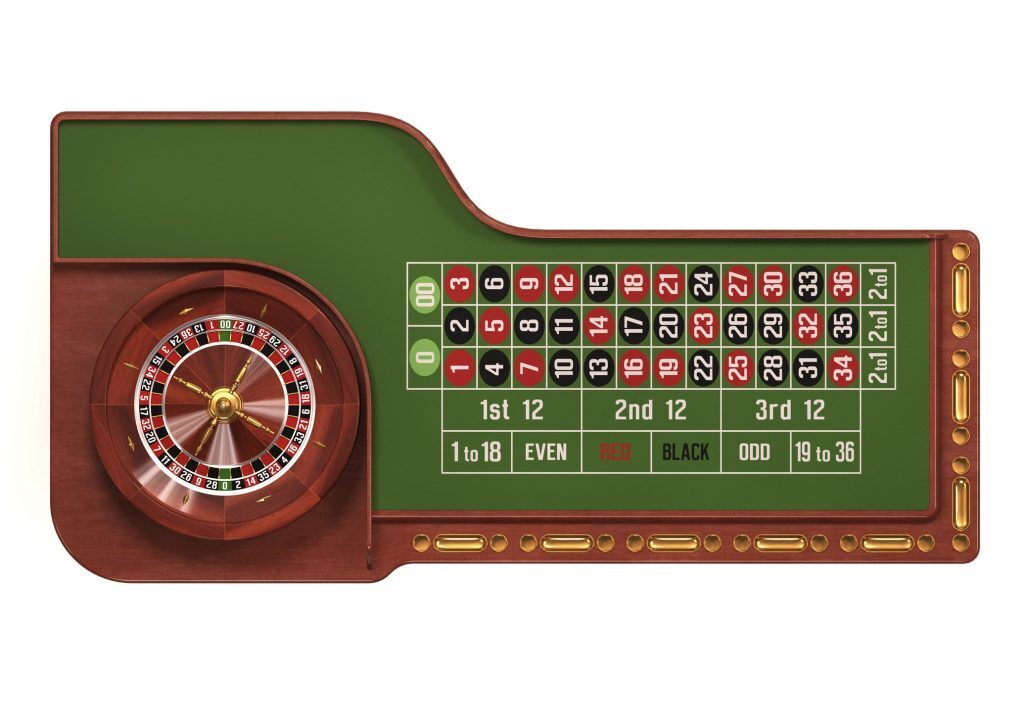 When playing roulette online or in person, this is where players place their bets. Understanding it is pretty simple. You decide where you think the ball is going to end up in the roulette wheel, and put your wager down at that spot on the table. The more precise your bet, the higher your payout, i.e. betting on red vs. betting on double-zero.
Types of Roulette
There are so many variations of roulette that you can find at online casinos, including a live roulette option. By far, the most popular versions are: European, American and French roulette. Each individual version of roulette has their own special rules though, like "en prison" or "la partage".
At any casino that offers online roulette, you will find one of or all of these variations:
| | |
| --- | --- |
| European Roulette | European Roulette uses a wheel with 37 pockets, the numbers 1 through 36 and a single-zero. For this reason, it's called single-zero roulette. It has a house edge of 2.70%. This is the game played in Monte Carlo and throughout most of the world. |
| American Roulette | American Roulette uses a 38-pocket wheel, including the numbers 1-36, the 0, and the 00. For this reason, it's called double-zero roulette. The house edge on this variant is 5.26%. This is the game played in Las Vegas and throughout North America. |
| French Roulette | French Roulette uses a 37-pocket wheel, but includes special announced bets. Many players call these the French bets, because they have French names: Voisins du zero, Tiers du cylindre, and Orphelins. This game became famous in Monte Carlo and France, but is especially popular with high rollers in Central and Eastern Europe. |
| Multi Ball Roulette | In Multi Ball Roulette, there can be up to 10 balls in play at a time. Bets are taken in the same way as the traditional variations, but players have the option to select and de-select balls in any manor they please. The overall odds of winning in this variation are higher, because no two balls can land in the same spot. |
| Multi Wheel Roulette | Up to 8 wheels can be spinning in Multi Wheel roulette. Players make bets that extend across all wheels and have the opportunity to select as many of the wheels as they want. No matter how many wheels are in play, they all mirror that of the European version with only a single-zero. |
| Mini Roulette | There isn't much that is unique to this roulette variation except for – you guessed it – it's mini. Exactly how mini you may ask? A mini roulette wheel only goes from 0 to 12 (unlike the standard wheel which is 0-36). Like its European counter-part, the mini roulette wheel only has a single-zero. Play for this variation is standard. |
| La Partage | If a casino uses the "la partage" house rule, place even-money bets on this game. La Partage ("of the parts") means you lose only half the bet when the ball comes to a stop on a zero slot. This means the house edge in European Roulette is reduced to 1.35%. |
| En Prison | If a casino uses the "en prison" house rules, place even-money bets in this game. When the ball lands on the zero slot and the En Prison ("imprisonment") rules are in effect, the bet is placed in prison for the next wager. If you win the next spin, you win back the original stake. If you lose, both bets are lost. |
Free Roulette Games
We believe there is no better way to get yourself acquainted with all of these different roulette variations, than to try them out for free first. This allows you to try before you buy, and to get a better idea of what version suits your playing style. Playing roulette for free is super easy at any of the online casinos we offer. After creating an account, head over to roulette game you would like to play and click the "Play for Free" option. This can sometimes be labelled as "Demo", "Try" or "Play for Fun" too.
How to Play Roulette
Now that you know what it is, the different elements and the different variations, it's time for the fun part, how to play roulette!
As table games go, the general rules for learning how to play roulette are pretty simple. You, as the player, place a bet or series of bets on the roulette table. If you were in a land-based casino, you would buy chips from the dealer or croupier to use for betting.
What do you bet on? Players can choose to go for one specific number, a group of numbers, all even numbers, or all odd numbers. You can also choose to forget about the numbers and simply bet on the colours, red or black. With the bets in, the ball is released as the online roulette wheel begins to spin.
Traditionally this would be done by a croupier, but online roulette isn't always done this way. If you are playing live dealer roulette, then your croupier will spin the wheel and roll the ball. In the case of online casino games, it's done with the click of a button.
As the ball lands on a number/colour, that is the winning number. If you bet right, then you get a payout based on the bets you made. However, if you were wrong, then your bets go to the house. If the number the ball rests on is yours, you win! If you win, you can choose to leave your winning on the table. This is a common Roulette gambling strategy and is also known as "letting it ride". If you choose to "let it ride" then the game begins again and you have a chance to pocket even more money.
Sounds pretty straight forward right? Now, let's talk strategy.
Basic Online Roulette Strategy and Tips
When it comes to online roulette strategy, you won't find many roulette tactics that change the odds in your favour. No equivalent to card counting exists for roulette. One of the advantages of online roulette is that players don't have to learn a bunch of complicated rules.
Instead, players should consider a couple different things:
Their odds of winning with different types of bets and the betting structure of the game.
The different variants of the game and how they impact the odds.
These things may seem obvious, but when a game is almost completely luck-based, it's important to know the ins and outs of details you have control over. If there is one thing you take from this strategy section, it should be not to rush your bets. That's the beauty of online gaming. You can take your time and really think through your next move.
When it comes to things players should avoid, we also have some tips:
Avoid Progressive Betting – Don't use progressive betting schemes to make a roulette play, like the Martingale system. Progressive betting involves increasing the casino bet after every loss and resetting to the base bet after a winning bet. While these give the illusion that you'll win after every bet sequence, it actually increases your risk of losing.
Say No to Betting Systems – Your brother-in-law, cousin, or neighbour might have a can't lose combination of roulette bets that they swear works. They're wrong. So are any gaming experts who claim they have a betting system that assures wins when playing roulette at an online casino.
Don't Watch the Tally Board – The online roulette electronic tally tells players which numbers won in the past 10 to 20 spins. Ignore the tally board, because it is meaningless. Hot streaks and cold streaks are illusions. With a balanced roulette wheel (and most are balanced), each spin is independent of the other spins.
Ways to Play Roulette Online
With the evolution of the online casino industry, there are now more options than ever for players looking to play online roulette. As a player you can play from your phone, tablet, or computer.
Phone / Tablet – More and more online casinos are catering to mobile players. In some cases you can download a roulette or casino app to your phone and in almost every other case you can play online roulette directly through your phone's browser. Options exist for both iOS and Android users.
Laptop / Desktop – PC/Mac users can download the casino software directly to their computers in some cases. Otherwise, they can play roulette at any online casino via their browser. Most online casinos will work with Chrome, Safari, Firefox and Edge.
Is playing online giving you the feeling of playing a video game more than playing at your favourite land-based casino? We have a solution for that. Live dealer roulette.
Live Dealer Roulette
We are a huge fan of playing any casino game with a live dealer. The experience is the closest thing a player can get to standing at a table at the casino, but from the comfort of your own couch. Many of our recommended casinos like Jackpot City that offer a live option for not just roulette, but many other games too.
When it comes to live roulette, the casinos don't usually hire a staff to run their live studio. Instead, they license a live casino provider like Evolution Gaming or Ezugi. These croupiers spin real roulette wheels in the gaming studio somewhere in the world, which is streamed live to players' computer screens in real time.
Evolution Gaming Live provides many of the live game options for Canadian online casinos. Outside live roulette, Evolution offers online casinos live poker, blackjack and baccarat. Evolution has studios in Riga, Latvia and Toronto. In order to cater to the Canadian market, English and French options are usually available.
Deposit Options for Roulette Online
When it comes to playing a popular online casino game like roulette, it's always important to know what your deposit options are at any online casino. Below are some of our favourite options for players that are usually available at every online casino we offer.
Debit/Credit
Debit cards and credit cards are the most popular banking option that is available at every online casino we recommend. This deposit method is great for roulette players as it can usually be used for both deposits and withdrawals, which isn't possible with all methods. Visa, Mastercard, Electron and Maestro are great credit and debit methods when choosing your roulette deposit option.
E-Wallet
You may be wondering what an E-wallet is and why it's a good option for roulette players looking to make a deposit. PayPal and ecoPayz are two of the most popular options in Canada not just for online casinos, but for everyday purchases. E-Wallets are extremely safe and even add an extra layer of security to the payment process which means you never have to worry about where your money is.
Cryptocurrency
Now this is a method that may not be available everywhere you play roulette, but that we do recommend using if you have the opportunity. Cryptocurrencies like Bitcoin and Litecoin are a safe, secure and most importantly, lightning-fast banking option for those who don't like to fuss around with processing periods on their deposits and withdrawals. Any deposits or withdrawals you request for playing roulette should be instant with cryptocurrencies.
There are plenty of banking options like Interac, Bank Transfer and Pre-paid cards, the options we mentioned above are just the most commonly found at online casinos in Canada.
Roulette Bonuses
Bonuses are one of the most exciting elements of playing roulette at an online casino. They often give your bankroll a hefty boost and allow you to maximise your deposits and earnings. When it comes to the most popular roulette bonus, there are a couple that we like to make sure our players keep an eye on.
The first and usually most beneficial is the welcome bonus. This is usually a direct match bonus that can be used to play as much roulette as you like. No-deposit bonuses, reload bonuses and loyalty bonuses are all also great to take advantage of when looking to play roulette. Lastly, if you're into playing live roulette, keep an eye out for live casino bonuses. These can be used to play live games with a real dealer and other players.
Online Roulette FAQs
Yes. But remember, there is an equal chance of hitting either colour, so don't listen to any rumors that one colour hits more often.
Of course, you can! As soon as you sign up for an account at the online casino of your choice and make a deposit, you are immediately able to make money playing online roulette.
No. All online roulette wheels are run by a Random Number Generator (RNG) that ensures every spin is completely independent and random. You can rest easy knowing the roulette games at any of the casinos we recommend are 100% legit.
There are no "best" numbers on a roulette wheel as the game is completely random. That being said, some numbers that are known for being "hot" are: 2, 5, 20 and 29.
The odds of hitting green in roulette are pretty low, but their winnings make it worth the shot. Depending on what variation of the game you're playing, payouts are either 35 to 1 or 17 to 1. In the European version, players only have a single zero or green to bet on. If it hits, the payout is 35 to 1. In American roulette, there is the single zero and double zero that players can bet on. If you bet on one of them and it hits, that's a 35 to 1 payout, but if you bet on both and they hit, that's 17 to 1.
This is entirely dependent on which variant you are playing, but as a rule of thumb, the single number bet has the highest payout. If you're looking for something a little more probable, anything that has a 50/50 chance (landing on red or black, or odd or even numbers) is a solid bet.
Are you wondering how to win at roulette? Unfortunately, the answer is not as simple as the question. Roulette is a game of chance, which means it's really tough to secure a strategy or tactic that has you winning every time. As we've mentioned, single number bets payout higher, but betting on things like red or black are much more probable. It depends on whether you want to win less, more often or vice versa.