»

Craps Online Canada 2021
Craps Online Canada 2021
Online craps is an internet version of the popular casino game. The first thing you need to know about craps is that it is actually a fairly basic casino table game, and not nearly as complex as it looks.
In a nutshell, you have the choice to make several wagers at the craps table. The main objective of craps is to correctly predict if the roll of two dice will result in a winning combination. Once the dice have been thrown, a 7 or 11 is a winning throw, while a 2, 3, or 12 is considered a loss. Any other number rolled (4, 5, 6, 8, 9 or 10) means that you have another throw.
Of course, there is a lot more to playing craps online than that. In this article, we will provide an easy-to-follow guide for playing online casino craps for real money, how to make the right craps moves, as well as list of online casino reviews for casinos offering online craps games.
Canadian Online Craps Casinos
Where to Play Real Money Craps Online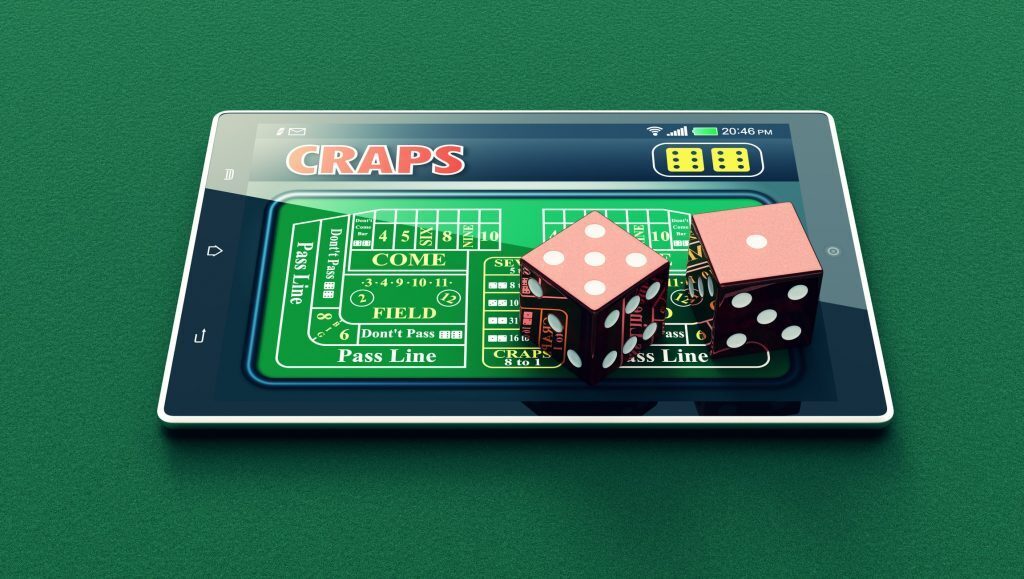 You can read our online casino reviews here at Maple Casino. When you visit sites that have been recommended by us, we encourage you to check out the welcome bonus offered for signing up and making a real money deposit. This helps as it gives you a little extra money to play craps online. Canadian players can also use it to play other casino games, such as roulette, blackjack, slots, video poker, baccarat, poker and bingo.
In addition to finding Canadian online craps game, our reviews will also give information on payouts at online gambling sites, such as how long it will take to get your winnings. Finally, you might even be able to play free craps before you play for real money. This is especially helpful when you are just learning to play craps online.
How to Play Craps
If the objective of the game explained in the introduction seems simple, that's because it is! We will now add a few more details to our explanation to give you a more rounded understanding of the game.
As mentioned, throwing a two dice combination of 7 or 11 is a winning throw, throwing 2, 3, or 12 is a loss, while all other numbers rolled means the dice thrower (shooter) must throw again. There are then two phases to an online craps game, namely the Come Out Roll phase and the Point Phase.
Come Out Roll
You place a bet on what you predict the shooter will roll. If you place a bet on the Pass line, this means you are betting on the shooter to win, i.e. the come-out roll is 7 or 11. A bet on the Don't Pass line means you are betting on the shooter to lose (craps out), i.e. the come-out roll is 2, 3 or 12. But what happens if any other number combination is rolled? This is called the Point Phase.
Point Phase
A come-out roll of any other value (4,5,6,8,9,10) establishes a point of that value. The betting then continues into the next round, with the shooter continuing to roll and players betting on the outcome of each roll. If the shooter rolls that number point again before rolling a 7, the bet wins. However, if a 7 is rolled before the number point, the bet loses.
At land-based casinos, the shooter is the person who throws the dice, and after each round, a different person rolls the dice. Shooters must have a bet on the Pass and Don't Pass lines. In craps online, however, you just click a button, and the computerized game rolls the dice for you. All you need to do is click, then sit back and relax.
In summary, these are the basic rules of craps, and all players actually need to learn to start playing craps online at the simplest level. What makes the game more complex, though, are all the different types of craps bets that can be placed. To enjoy playing online craps games, you must first understand the craps table, as well as the different types of bets it shows.
Understanding The Craps Table Layout
Fortunately, Maple Casino makes learning craps easy by explaining all the different types of craps bets and their odds of winning. The first thing to bear in mind is that the craps table layout is not nearly as intimidating as you might imagine. After all, the two sides of the table are just a mirror of each other, which is convenient in allowing a number of land-based casino players to play the game at the same time. This can be seen in the craps table image above. The craps table also features a collection of colours, numbers and different segments. These represent the various types of wagers, available to a craps player.
Different Types of Craps Bets
At the craps table, you will see the words "Pass Line", "Come Out", "Don't Pass Bar," and "Don't Come Bar". These words on the table represent some of the easiest bets to make in a craps game. There are also a number of other bets available for online craps players:
Pass Line Bet: This is one of the easier bets to understand. You make the bet by placing the chips where it is marked 'Pass Line' on the table. This bet requires the player to throw the dice many times. To win quickly, you can throw a 7 or 11 and to lose quickly you need a 2, 3 or 12. (House edge: 1.41%)
Don't Pass Line Bet: This is the opposite of the Pass Line Bet. You make this bet by placing chips where it is marked 'Don't Pass Line' located on the game table. (House edge: 1.36%)
Field Bet: Bet by placing chips where it is marked 'Fields' on the table. This bet entails wagering on the possibility that one of the following seven numbers will appear on the next throw of the dice: 2, 3, 4, 9, 10, 11 or 12. (House edge: 5.56% to 2.78%)
Come Bet: To make this bet, place chips where the table is marked 'Come'. On this bet, you can win when you throw a 7 or 11. In addition, if a player rolls a 2, 3 or 12, then it is a loss. (House edge: 1.41%)
Don't Come Bet: This is similar to the 'Don't Pass Line' bet and is the opposite of 'Come Bet'. If you place this bet, you win when the shooter manages to get a 2 or 3 and when the shooter lands a 7, 11 or 12 it is a loss. (House edge: 1.36%)
Place Bets: This involves betting on a single number that can be 4, 5, 6, 8, 9 or 10. (House edge: 1.52% on 6, 8; 4% on 5, 9; 6.67% on 4, 10)
Buy Bets: This bet is similar to 'Place' bets. The only difference is that the 'Buy' bet requires 5% commission.
Proposition Bets: These are single roll bets made at any stage of the game. There are many types of bets you can make here.
Different Craps Game Variants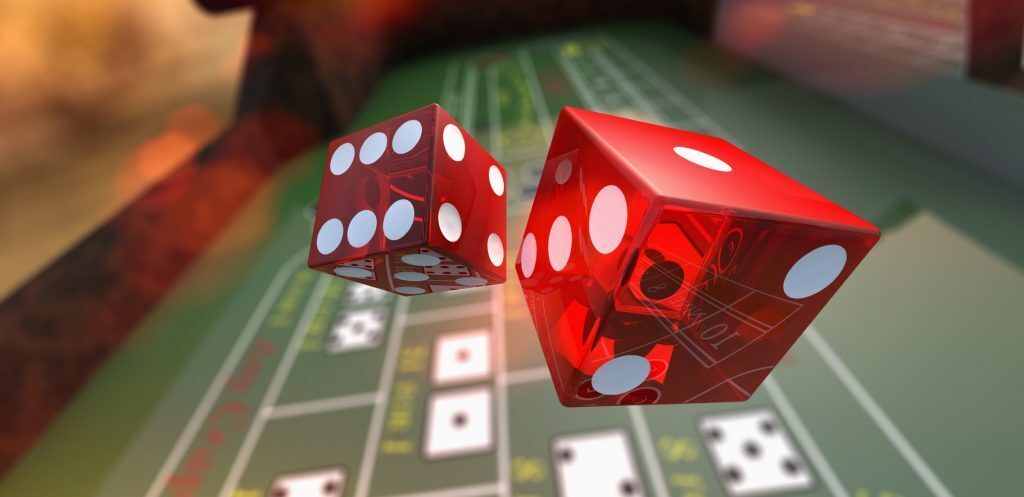 Traditional craps is the casino game's most popular variant. However, a number of other craps variants exist for players to enjoy, each offering new twists on the traditional game's rules, as well as betting options and odds. These craps variants include such exotic names as Crapless Craps, High Point Craps, Die Rich Craps, Simplified Craps and New York Craps. While these games were originally only available in certain regions, these days they are freely available at online casinos in Canada.
Three Helpful Craps Tips for Beginners
Online craps is a game of luck, which only adds to the excitement of playing this casino table game. However, there are those that insist that strategy is the way to go when it comes to playing online casino craps for real money. An effective craps strategy would naturally require an understanding of the house edge, which is the advantage that the game has over its players over time. When you practice craps and play craps online for fun, though, you will naturally develop a feel for the craps bet's odds and become better at beating online casino odds.
In craps online, a player can choose to place their bets on the basis of a single roll, or a series of rolls of a pair of dice. Nevertheless, here are three simple craps tips that will help beginners to become better players.
| | |
| --- | --- |
| Stick with Pass Line Bets | These are the most common type of craps bets. They're quick to learn, and provide players with a low "per roll" house edge. |
| Steer Clear of Big 6 or 8 | These bets give the casino a whopping 9% house advantage. Instead, place your bets on 6 or 8, which provide a much lower 1.52% advantage for the casino. |
| Stay Away from Proposition Bets | While these may seem tempting, the high house edge means your chances of winning over time will be greatly reduced. |
Online Craps Terminology in Canada
If you're new to craps online then it's easy to feel a little confused by the terminology and get a tad lost in all the colourful jargon and language. No need to worry, though. The following list will provide you with some main terms and phrases used to refer to the numbers rolled during a craps game.
Twelve is most commonly labelled as 'Boxcars', this may have something to do with numbers resembling boxcars on a railroad. Another popular phrase associated with twelve is 'Midnight'.
Rolling an eleven may incur the phrase 'Yo, Six Five No Jive' or 'Yo-leven'. 'Yo-leven' came about so players wouldn't mishear 'eleven' as 'seven'.
Ten is also referred to as 'Tennessee'.
Nine can also be called 'Jesse James' or 'Nina from Pasadena'.
Eight is called 'Mom and Dad' or 'Square Pair.'
Seven is referred to as 'The Devil'. 'The Big Red' or 'Six One.'
'Jimmy Hicks' is another name for Six
A five is called 'Little Phoebe' or 'Fever Five.'
Four is referred to as 'Little Joes'
A three is called 'Three Craps' or 'Ace Deuce.'
Rolling a two is perhaps the most commonly known phrase of them all, 'Snake Eyes.'
This will help you to join in on the fun, and enjoy playing craps online for real money even more.
Craps Casino Bonuses
Although online casinos don't typically offer craps specific bonuses, there are still plenty of different kinds of bonuses that players can take advantage of. Below are some of the most common that can be used to play craps:
Sign Up – One of the easiest bonuses to secure, considering all you have to do is sign up. Sign up or welcome bonuses are often match bonuses that double or triple your initial deposit.
No-Deposit – These bonuses are notorious for being small, but what craps player wouldn't want to use some free bonus money?
Reload – If you had a tough day of craps losses, don't worry, some casinos offer reload bonuses in the form of a percentage of your losses back the following day.
Loyalty – Only the most loyal craps players get to take advantage of this epic bonus that usually comes in the form of bonus credits added to your account.
We always recommend that players are consistently checking the promotion section of their preferred casino. By doing this, you'll be sure not to miss any great promotions that will make playing craps online more enjoyable.
Canada Online Craps FAQs
First, you have to register with a casino of your choice. Second, deposit money into your casino account if you will be playing for real money. Lastly, find online Craps from the casino game menu and you are ready to play. If you are playing for fun, you can skip the money deposit and go straight to playing the game.
Yes. You can enjoy online craps and more for free. There are a lot of casinos that allow players to play games for free and for real money. We recommend using Jackpot City for free online craps.
If you opt to play at an online casino that is regulated and often audited, then you can be sure that it is fair.
Each wager has its pros and cons. Understand each wager or bet and what it entails for you to be able to make an informed decision.