Playtech Slot Pays Out Largest-Ever Spanish Jackpot
When a big online casino jackpot hits somewhere in the world, there are a few game developers that could have delivered the game. And Playtech is always one of them.
This time, Playtech's Gladiator: Road to Rome casino game paid out more than €1.5 million to a player in Spain. It was the largest online casino jackpot ever paid in that country.
Record-Setting Payout
The Spanish player was on Codere, an online casino that services customers in the Spanish market.
Codere offers a range of online slot games, including jackpot progressives like Gladiator: Road to Rome from Playtech. And in August, the player hit that jackpot for a massive €1,510,172.82 payout.
Up until that time, the largest jackpot to pay out to any player in Spain was only €130,000 paid from DJ Superheroes Jackpot online slot, another Playtech title. It was a tidy sum of money but not even one-tenth of the size of the latest one.
Codere Global Brand and Marketing Director Angel Fernandez commented, "Everyone at Codere is very excited to have contributed to one of our clients achieving this win. Gladiator: Road to Rome is a hugely popular game for us, with the progressive jackpot proving a major draw. Many congratulations to our lucky client on their amazing win!"
The player does not want to be named, and Codere has released no information about him or her.
Proud Playtech Parent
When a game developer produces a game that changes someone's life, that is something to talk about.
Playtech's game paid out the largest jackpot in Spanish online gaming history, which is a source of pride. But the win was big for Playtech, too. It put Playtech over the €198 million mark of jackpot prizes paid out across the world in the past year.
With 80 progressive jackpot games, Playtech now nears the €200 million milestone in just one year.
Shimon Akad, Playtech COO, said, "Gladiator: Road to Rome has become one of Playtech's most successful games and characters, and we're delighted it has created Spain's first casino jackpot millionaire. Spain is a growing market with significant long-term potential."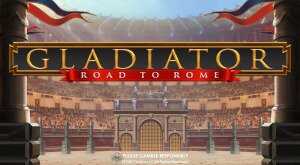 Gladiator Challenges Jackpot Giant
Considering Playtech has been in operation since 1999 – now 20 years – it is no surprise that there are more than 600 games in the company's library.
Some of the most popular are Top Gun, Rocky, and other branded games associated with well-known films and television shows. But one of the games that has been increasing in popularity is Gladiator.
Of course, Jackpot Giant is a huge hit because of its significant progressive jackpot payouts. Just this summer, Jackpot Giant paid a jackpot of €1.69 million to a Ladbrokes player for a €4.50 spin.
However, if Gladiator: Road to Rome promises and delivers on similar jackpots, the game might just become as popular as Jackpot Giant.
About Gladiator: Road to Rome
Playtech released the game in December 2017. It turned out to be a holiday gift to many jackpot winners.
Based on the 2000 film Gladiator starring Russell Crowe and Joaquin Phoenix, the game is set in ancient Rome. More precisely, the game's setting is the Colosseum. It is the famous location of bloody battles and lives put on the line, all playing out in front of a roaring crowd.
The 5-reel slot offers 25 paylines. Play starts at just $0.25 and increases all the way to $125 per spin. The game offers wins of up to 45,000 times the bet.
There are free spins, multipliers up to 9x, extra wilds, and scatters. There is a nudging Gladiator wild and a bonus round, all providing many ways to win.
When players hit three shield symbols, the free spins round begins with five free spins, though four symbols gets eight spins and five shields garners 12 spins. More shields aware more spins or multipliers, or even a payout boost for certain symbols.
On the other hand, players can hit three helmet bonus symbols on the three middle reels. This warrants a bonus round with a variety of helmets offered. The nine helmets can be gold, silver, or bronze, each one with a cash prize inside. But if those helmets are all gold – all nine of them – that is the progressive jackpot win!
Some players might remember the original Gladiator online casino slots, which have been quite popular through the years. But the Road to Rome version is the latest and most updated, with better graphics, more realistic characters and symbols, and bigger win possibilities.
With the latest payout of more than €1.5 million, players will likely be stepping up to the game more frequently. This will create even bigger jackpots going forward.