It's one of the most influential strategy books of all-time, The Art of War. And its author is considered one of history's very finest military tacticians and analysts. In 13 chapters, Sun Tzu managed to leave his legacy by delving into and detailing every aspect of warfare. The text dates back centuries, all the way to 500 BC. But its teachings remain powerful tools in the arsenal of generals and business leaders. Not to mention lawyers, agents, and office managers the world over. In fact, Donald Trump is on record as saying it's his favourite book, and we all know where he is today. The White House.
Remember, before Trump became President of the United States? He penned a best-seller detailing his life in business, the creation of his real estate empire and how he became a billionaire. It was called The Art of the Deal. Sound familiar? One of the tenets put forth by Tzu is to always "appear weak when you are strong, and strong when you are weak." Another suggests "opportunities multiply as they are seized."
Isn't that essence of poker? As bitter rivals Daniel Negreanu and Doug Polk prepare for one of the most anticipated heads-up battles ever, even Tzu and Trump would have to admire the methods being employed by the pair. Make no mistake about it, this is warfare. They don't like each other, and have been trading shots on social media for years. With so much at stake, their reputations namely, not to mention some big money, they are currently embroiled in a fierce, and sometimes nasty, public negotiation over the terms and rules of play. You might call it The Art of the Steal.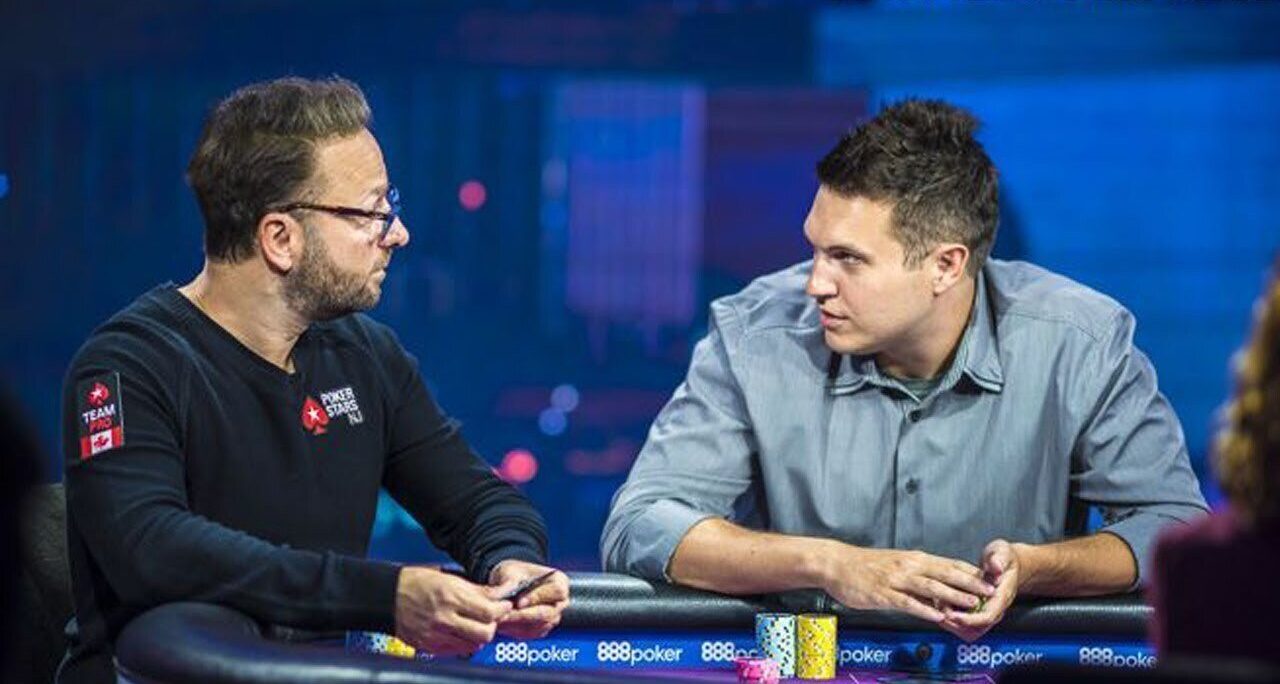 Prize Fight
In one corner you have Daniel Negreanu, a six-time World Series of Poker bracelet winner, two-time WSOP 'Player of the Year' and member of the Poker Hall of Fame, and a guy who has won more $42 million in his career. He's a legend, and one of the most recognizable players on the planet. In the other corner you have Doug Polk, a controversial podcaster and now retired poker pro, who's won three bracelets and close to $10 million lifetime. They are both sharks, heavyweights if you will, and when the bell sounds, they will come out swinging. Haymakers.
Ironically, Polk actually admired and looked up to Negreanu early on in his career. But that all changed in 2016 when the feud began. Negreanu, who was sponsored by PokerStars at the time, defended the company's rake increase, essentially arguing that higher rake would help weed out sharks and professionals, and bring more recreational poker players to the site.
That idea did not sit well with Polk, who then began to chastise 'Kid Poker' in a series of comical and straight-to-the-point videos that were blasted out to his huge following. He had memes and t-shirts made, and even rented a billboard outside the Rio All Suite Hotel and Casino during the World Series. They all brandished the slogan "more rake is better." He was relentless in his joking and mocking, and most certainly managed to get under the skin of Negreanu. Polk wanted to play cards, too, and was issuing challenges the entire time. Negreanu relented, and finally accepted a duel.
Charting a Course
"You need a cheat sheet too?"
Direct and simple, and a direct hit as well. Negreanu posed that question on twitter, for all to see. He was curious as to why his opponent would need to use pre-flop charts. It's one of the more contentious issues being debated ahead of their showdown. At first, the use of pre-flop aids wasn't a big deal to Negreanu, and he initially okay'd the idea. But after further consideration, he changed his mind. Admitting he didn't know enough about real-time assistance or other advanced tools available online at the time, and when it was explained to him the power they possess, he thought, "why should I give up this advantage?"
"Once I spoke to my advisors, they were like, 'HELL NO,'" he said, motioning his left hand back and forth across his neck as if he was putting the kibosh on that plan, and fast.
During a no holds barred appearance earlier this week on the DAT Podcast, which he co-hosts alongside Terrence Chan and Adam Schwartz, Negreanu voiced his opinions on Polk in an epic rant.
"If he wants to play real (expletive) poker, let's sit down at a poker table, with cards and chips. Obviously, he's not going to agree to that. It comes down to this, he challenged me. I've agreed to play his best game, under his format, on his approved platform, and his desired number of hands. He got everything."
Are You Ready to Rumble?
Keep in mind, Polk is widely regarded as one of the greatest heads-up players in the world. He's pretty good at a full table too, but when it comes to one-on-one action he is a specialist. He's won millions. And, if you ask friend and fellow pro Dong Kim, Polk is far superior to anyone in this format.
"I credit him with everything," said Kim, who developed a friendship and subsequent student, teacher relationship with Polk after first meeting him in Korea back in 2012. "He coached and staked me, and helped me move all the way up. I have nobody else to thank. He just plays so different. Always finds reasons to deviate, and seems to be correct so often. It's scary."
Negreanu, meantime, has been plying his trade and honing his craft for the past 20 years. He too has a brain for poker, and knows full well he is a huge underdog. He is not mincing his words either, and hopes Polk is listening.
"You're this heads-up crusher, and you need training wheel charts? You need cheat sheets? Cause that's what they are," he said, with the aggression evident in his voice and animated movements. "If we're going to play poker, what's wrong with the idea that we're going to use our brains, with no aids or notepads?"
What's a Game Tree?
They are valid points. Online poker players have been utilizing complex software for years. They've incorporated things like pre-flop solvers and so-called 'randomizers' into their game, to the point where they are almost playing perfectly before the flop is spread out. For example, whatever base strategy Polk has configured into his pre-flop charts could then be used to form the root of a visualized 'game tree' that helps guide him on future decisions. It would allow for more game theory optimal moves on the flop, turn and river. It's non-negotiable as far as Negreanu is concerned.
Here's an example:
"Sometimes you can do something within the rules, but it's still shitty. I could have all the same pre-flop charts he does, and then we're literally not making any decisions before the flop. He's not making any decisions because he clicks his randomizer and opens up with a bet when it says to, and I'd be doing the same thing. Essentially we'd be completely eliminating the skill of pre-flop poker and delaying it until the flop."
Ultimately, Polk came back with an offer, which Negreanu modified and sent back, and eventually a deal was finalized. The players have agreed not to use pre-flop charts. A win for 'DNEGS.'
Hole Cards?
Polk then suggested they show all hole cards to the viewing public. Negreanu countered by agreeing to show his periodically, and only a small portion of his holdings.
"It's another thing that would benefit him, because he has no clue as to how I play (heads-up)," Negreanu asserted on his podcast. "Do I really want to show him my first 1,000 hands and give him all that data on exactly what I'm doing in all spots? So, he can use his software machine, punch in the numbers, and figure out how to exploit it? It would be stupid. For the sake of the show and to make it fun for the viewers, I'll do it in small portions. I'm not going to show all my cards, that seems absurd. I want to win this thing."
Action Player Makes the Rules
Usually in a gambling transaction, the favourite has to make concessions. It's just common sense. Otherwise, how would the better player get anyone to play? No seasoned gambler, or anybody in their right mind, would want to take on a more skilled opponent, especially for big money, straight up. Negreanu is a seasoned pro.
It's mind boggling the amount of entitlement where he thinks he has any say in the rules. You threw out the challenge, I tell you what they are. If you accept them great, and if not, we don't play. You certainly don't get to use charts if the other player doesn't want to.
In the court of public opinion, it seems he has won this battle. Even some fans of Polk, as he continues down this negotiation path, have expressed their belief he's gone too far, and that it's not the right hill to die on. Again, it's perceived Polk has a considerable advantage heading in, just ask the oddsmakers.
Pundits Predict
While Negreanu is hoping to prevail and provide poker fans with an upset victory, his true goal is to make it as competitive as possible. The truth is, even that may be lofty. Initially, Polk was listed as a 6-to-1 favourite, but the poker betting site PokerShares has now lowered that to 4-to-1. Perhaps because of the recent negotiations and public back-and-forth's.
It's been a well hyped grudge match, and we're only two weeks away now. Bargaining chips will surely continue to be played until then. With each seeking to acquire any last-minute edges they can. The odds will likely change too. One thing is a given, poker fans will be watching, and they want blood.
Here's what we can tell you for sure:
Play begins November 1st.
Scheduled for 25,000 hands of poker.
The blinds will be set at $200/$400.
The losing player can bow out at halfway point (12,500 hands).
If losing player wants to continue, the winning player must oblige.
If both players agree, the stakes can be raised at halfway point.
They will play at least two hours per day, every other day.
Organizers are planning to broadcast the event live at pokergo.com, but the details have yet to be released. As you might imagine, with 25,000 hands to be dealt, it'll take a while for it all to play out. Both players have agreed on Kane Kalas as the narrator of all the action, and believe he'll be an impartial voice in the broadcast booth. Kalas is a well-established professional who understands the intricacies of heads-up play at an expert level.
By the way, Negreanu has already deposited $1 million onto wsop.com, and is hoping it'll be enough. We'll soon find out.