Negreanu Sends Strong Message on Opening Night
And so it begins…
Talked about for months, and years in the making, one of the most anticipated heads-up battles in poker history got off to a flying start Wednesday night. Arch rivals Daniel Negreanu and Doug Polk squared off, face-to-face, inside the PokerGo studios in Las Vegas. With the pair bitter enemies, the network was hyping the event as a "High Stakes Feud", but the story of the night proved to be the good-spirited atmosphere in which the two played. They were conversing nicely, chatting, joking and laughing. And even seemed to be enjoying each other's company. The banter carried on the entire evening, almost like they were friends. Not what the poker world was expecting, but entertaining and riveting none-the-less.
"A master class on how we can get along in these divisive times," noted commentator Kane Kalas, an obvious reference to the elephant in the room, the political turmoil and uncertainty that still exists stateside, a night after the U.S. presidential election.
Perhaps it was all for show? Like a couple of actors defining their characters in the opening act of what promises to be a sure-fire hit drama series playing out for the masses on the big screen. They both can't be protagonists, can they? As this real-life poker movie unfolds, who will emerge as the lead? Well, on opening night, a Canadian stole the show.
First Blood to Canada
Negreanu ran really well in the first 40 hands, chipped up nicely, and quickly establishing the lead. A few decent hands, a small diamond flush included, guided the 46-year old en route to an early $17,000 profit. He was also lucky in other ways, like the time Polk was dealt pocket aces and went for the kill.
"You hate to see it," Polk said, as he revealed his monster holding when the hand was over. The problem for Polk? Negreanu was fortunate to be dealt 9, 4 off suit, mucked his cards, and lost the absolute minimum, his ante only. Had he been dealt a stronger hand, who knows how much damage he would have sustained.
And, Negreanu's bluffs were panning out, too. Everything seemed to be working as he padded his lead to about $40,000. A theme soon emerged.
"Old man speeding," he joked several times, while raking in chips, a statement to both his aggressive betting lines and the fact he's 15 years Polk's senior.
The funny thing is, the jokes were well-received, with no signs of animosity. Strange. The affable table talk continued.
Friendly Foes?
It's an interesting match-up. Negreanu, a Toronto native who has resided in Las Vegas for years now, is a legend of the game. Nicknamed 'Kid Poker' because of a break-out year in his early twenties, not to mention his title run at the 1999 United States Poker Championship at the age of 25, he is the only person to win the WSOP 'Player of the Year' award twice. He's captured six bracelets at the World Series of Poker, and sits third on the all-time money list with more than $42 million won lifetime. One of the most recognizable poker players on the planet, Negreanu can play all the games. He is world-class proficient in all the poker variants. He's not so much a 'Crazy Canuck' as his is a clinical Canuck, but he's certainly ruthless in battle.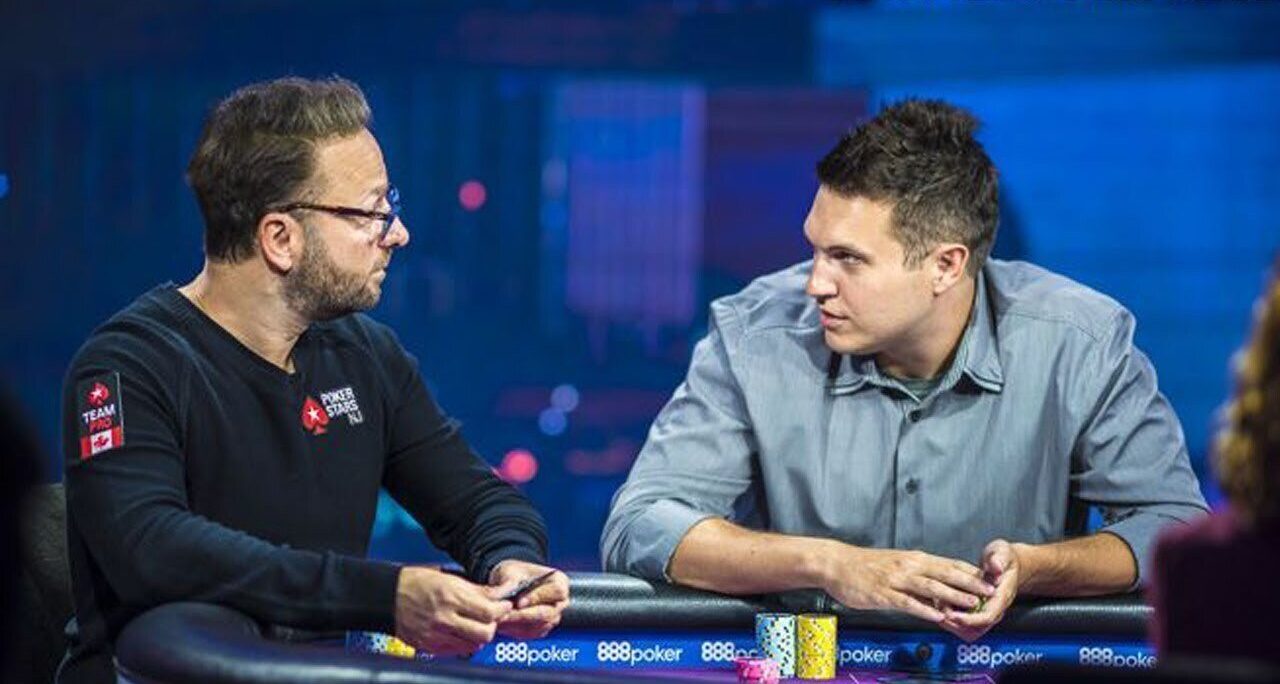 Doug Polk, conversely, made his name on the virtual felt, and was a dominant force in the online poker realm for years. A specialist, playing under the screen name 'WCGRyder', the California resident is widely regarded as one of the best heads-up players in the world. He's got three WSOP bracelets on his resume, has won millions, and has managed to parlay his success at the table into a very lucrative podcasting career away from it. His Youtube channel, Doug Polk Poker, has 300,000 subscribers.
The feud began in 2016. Sponsored by PokerStars at the time, Negreanu defended the company's rake increase, suggesting the higher rake would discourage sharks and professionals from playing as much, and attract more recreational 'newbies' to the site. Polk took exception to the idea, and began to publicly ridicule Negreanu.
They have been going at it ever since. At times, the verbal back-and-forth's have been nasty, but none of that vitriol was display on night one.
Final Format
Following a series of tense public negotiations, with both jostling for terms and rules advantageous to their individual styles of play, Negreanu and Polk came to this consensus for the heavily promoted curtain raiser:
Stakes of $200/$400
Match duration, 25,000 hands
First 200 hands live, in-person on PokerGo, with hole cards
Remaining hands played online (two tables)
Option to throw in towel after 12,500 hands
Late Night Surge
As the dealer was shuffling the cards, preparing the deck for the 191st hand of the evening, Negreanu pondered aloud how many were left to play. When told "ten" by the floor manager, he seemed relieved the night was almost over. Remember, he entered as a four-to-one underdog, and here he was winning. The perfect opening salvo.
"You can lock up the win, and just fold out," said Polk. "Just lock it up."
Both players chuckled. The idea of 'locking it up', or simply folding the remainder of your hands as a means to avoid any risk of losing your profit, is ludicrous. Again, this in-person portion featured a mere 200 of a possible 25,000 hands. There is a long way to go.
Lock it up? No, Negreanu did the exact opposite and began to play bigger pots. On hand 193, holding 10, 6, he flopped trip sixes and slow played it to perfection, right until the end. Polk took the bait, firing out bets on each street, and eventually pushed all-in on the river with only queen-high. He had missed his straight, tried to steal the pot, and was picked off handily.
"Alright, I'm back in for fifty," he said, as he reached down into his bag beside the table for more chips. Another $50,000.
Stone-faced, silent and stacking his chips, Negreanu was now sitting on a six-figure score.
Final Thoughts, Final Tally
When the final hand was finished, Polk was still smiling, but you could tell he wasn't pleased with the outcome
"How much damage was done?" As he stared down at his depleted chip stack, you could sense his frustration.
When the final tabulation was done, Negreanu came out the victor with a tidy little profit of $116,500, or almost two-and-a-half buy-ins. An ideal start, and the Canadian was visibly thrilled with how things unfolded.
"I've had 20 years of playing under the lights in this scenario," he said, crediting his experience while outlining the harsh reality of what's to come.
"Unfortunately, this is just a small portion of the match. I know we have a long road ahead. We're going to be walking into his arena now, which is online, playing two tables. Obviously, super pleased with the start, I thought I played well, and executed my strategy. It was really important for me to get off to a good start. I want to make this match competitive, and I want people to see a battle to the end."
Negreanu knows full well there are still 24,800 to be dealt, and dealt with, and understands Polk's strategy and style of play will constantly change over the coming weeks and months. He'll have to adapt as time goes on. "I just hope to come out on top," he said, one last departing shot in the post-match interview.
As for Polk, he didn't seem too stressed by it all.
"What can I say? I had some spots to bluff that I thought were good, they weren't. I didn't get any good spots, tried to run some bluffs at inopportune times, and lost some money. I thought he played a couple of nice lines that panned out nicely. He played well."
High stakes feud or high stakes friends?