Many online casino slot game developers introduce a holiday-themed game in November or December each year. Rarely, however, does a company release two games. It seems 1X2 Gaming wanted to buck the trend in 2019.
When 1X2 Gaming launched in 2002, its goal was to develop innovative fixed odds gaming products. It did just that and eventually branched out to virtual football games and casino games. Based in the UK, 1X2 Gaming is a part of the network by the same name, and its sister companies include Iron Dog Studio and LEAP.
It seems as if the 1X2 Gaming creative department was feeling festive this year, as the company decided to stand out from its competitors with two holiday releases: Xmas 3×3 and Space Christmas.
Xmas 3×3 Basics
This new slot game is a three-reel creation with nine paylines. It offers an RTP of 95%, making it a low-variance game but with a maximum win of 8,070 coins.
The lowest bet value possible is the $0.10, making the minimum bet $0.90. The player can then increase that value up to $5.00, creating a max bet of $45.00. Essentially, since there are nine sets of reels, the bet is multiplied times nine.
However, players can choose to play fewer reels. By simply clicking on a reel, it can make it inactive. This reduces the total bet.
The paytable for the game is simple:
3 Santa hats = x1
3 snowflakes = x2
3 holly flowers = x3
3 candy canes = x4
3 stars = x5
3 gingerbread men = x6
3 desserts = x7
3 ornaments = x8
3 stockings = x10
3 snowmen = x15
3 reindeer = x20
3 elves = x25
3 wrapped packages = x30
3 decorated trees = x50
3 bags of gifts = x100
3 sleighs = x500
Xmas 3×3 Gameplay and Features
The game is very simple. There are nine sets of reels, each with three reels and a single row. One spin takes care of spinning all nine of them.
To win a prize, at least one of the reels must have three matching symbols. The options for the payouts listed above are as follows:
Top row winning potential: x1, x2, x3, x4, x5, x6, x7, x8
Middle row winning potential: x1, x2, x3, x5, x10, x15, x20, x30
Bottom row winning potential: x1, x2, x5, x10, x25, x50, x100, x500
The game sounds simple, and it is. There is really nothing more to it, no bonus rounds or free spins. But with nine reels to watch and the potential for some big payouts, Xmas 3×3 is exciting and fresh.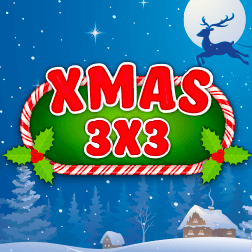 Space Christmas Basics
Santa normally leaves the North Pole in his sleigh and heads for children's homes, but in this game, he heads for outer space. Instead of traditional music, mysterious space sounds take over. The reindeer wear space helmets, candy canes are twisted, and Santa dons a full-on space suit.
The 5-reel game has 20 paylines, making the minimum bet $0.20. A player can then increase the bet per spin up to $50.00. And players can win up to 800x the bet. And the RTP is 96%.
When playing at the lowest betting option, these are the payouts listed for the symbols in Space Christmas when five appear on a payline:
Santa = 800
Snowman = 500
Reindeer = 300
Orange planet = 200
Twisted candy cane = 100
Orange and blue stars = 50 each
Purple and yellow orbs = 25 each
Space Christmas Gameplay and Features
This game offers several features, starting with the Wild that substitutes for all standard symbols. During the bonus round, the Wild sticks on reels for successive spins.
Speaking of the bonus round, one involves free spins. When the Scatter appears on the reels, it can lead to free spins. Three Scatter symbols garner 10 free spins, four symbols bring 14 free spins, and five Scatters win 18 spins.
As for the Bonus symbol, three, four, or five of them put the player into the awards bonus game. There will be up to five chances to pick a lucrative prize.
This game has many more features than Xmas 3×3 and a better return with medium variance.
Space Christmas is definitely a holiday-themed game, but it doesn't have the holiday music. So, if you've had your fill of Christmas carols, this is the game to play.
Where to Find Xmas 3×3 and Space Christmas
The top Canadian online casino offering 1X2 Gaming holiday games is Playamo. Players can find all 1×2 Gaming offerings there.
Keep your eyes open on these and other casino sites for special Christmas promotions!