The Best Casinos in Some of James Bonds' Favorite Destinations
James Bond is no stranger to world-wide travel. His missions have brought him literally around the world and back. In many of the films, we get to see Bond taking a chance at the baccarat table, so it got us thinking; What are the best casinos in some of the places he has had the opportunity to travel to, and would he be interested in playing or staying there?
Here are some of the best casinos in some of Bond's most frequented or unique locations:
Macao
Movie Appearances: The Man with the Golden Gun, Skyfall
Best Casino: Wynn Macau
Location: Macau, Macao
Macao is one of the most luxurious places in the world, so it's no surprise it's home to some of the nicest casinos in the world. We just had to choose the Wynn Macau as our front runner because of the fact that it is pure and utter luxury from top to bottom. Beyond the casino games like blackjack and roulette, there is so much the Wynn offers players and guests. Bond surely would have no problem staying and playing here.
Switzerland
Movie Appearances: Goldfinger, On Her Majesty's Secret Service
Best Casino: Grand Casino Bern
Location: Bern, Switzerland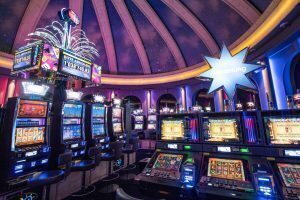 Grand Casino Bern is one of the largest and best casinos in the country of Switzerland. Their décor and casino layout, is something like we have never seen before. It's the perfect place for visitors who are looking to get the full luxury experience, from the glittering slots, to the elegant Rondell Bar. We just know anyone, but especially James Bond, would love to play here.
Bahamas
Movie Appearances: Thunderball, Never Say Never Again
Best Casino: Baha Mar Casino
Location: Nassau, Bahamas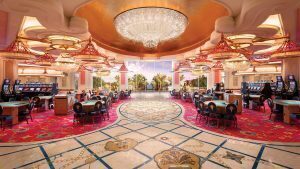 We cannot get over the Baha Mar Casino in Nassau, Bahamas. Being the largest upscale casino in the country, they offer over 100 live tables. Luckily, the casino is also on the beautiful Baha Mar resort, so players can enjoy the casino as well as all the amenities that the resort has to offer. Bond would be crazy to not want to stay here. Especially with all the baccarat options they offer players.
Montenegro
Movie Appearances: Casino Royale
Best Casino: Merit Casino Royal Splendid
Location: Podgorica, Montenegro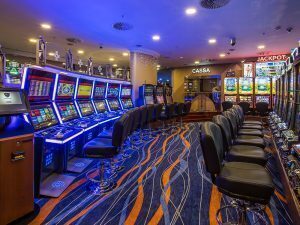 We chose Montenegro as one of the locations, as it is where one of our favorite Bond films, Casino Royale takes place. That being said, Montenegro's most popular casino is something a little different. The Merit Casino Royal Splendid is by far one the most luxurious and exciting casinos in the country. And it has the patrons and the reviews to show it. Though it doesn't seem as though they have Bond's game of choice, we think we would still enjoy staying here.
Morocco
Movie Appearances: Spectre
Best Casino: Atlantic Palace Agadir
Location: Agadir, Morocco
With Morocco being one of the most beautiful countries in the world, it's not shocking that their best casino follows suit. The Atlantic Palace Agadir boasts an exciting nightlife, with not only a fully stocked 23-hour casino, but also a nightclub and cabaret. Players are promised the most unique and high-quality gaming atmosphere that will surely leave them feeling satisfied and wanting to come back for more. One of their most popular games? Poker. We wonder if Bond would feel the same way?
USA
Movie Appearances: Goldfinger, Diamonds Are Forever, A View to Kill
Best Casino: Wynn Las Vegas
Location: Nevada, USA
Now it wasn't easy to pick out the best casino in the USA, but it's obviously going to be in Vegas. There is a plethora of luxury hotels to choose from, but the Wynn Las Vegas really sticks out in our eyes when it comes to gaming and overall experience. Being the second Wynn on the list, the experience these casinos offer to players and guests is like no other, which is perfect for Bond, who is also like no other.
Italy
Movie Appearances: Moonraker
Best Casino: Casino Di Venezia
Location: Venice, Italy
As the biggest and most luxurious casino in Venice, Casino Di Venezia was an obvious choice. They offer an endless amount of games for players to partake in, and if you want to take a break from the games, they constantly have new events and promotions popping up around the venue. They also have two different restaurants for players to choose from when they're feeling hungry. This is a level of elegance even Bond wouldn't want to pass up, considering you can even enter the casino through the Venice canal.
Russia
Movie Appearances: Golden Eye, The Living Daylights
Best Casino: Central Moscow Hippodrome
Location: Moscow, Russia
This casino experience is a little different than our others. With the closure of their Crystal Casino, the Central Moscow Hippodrome has become the number one "betting space" in Moscow. They do not have the typical casino games as they are entirely focused on horse racing and betting. That being said, they still offer a next level experience to guests. This unique experience is something we think Bond may want to partake in at least once.
South Korea
Movie Appearances: Die Another Day
Best Casino: Paradise Casino Walkerhill
Location: Seoul, South Korea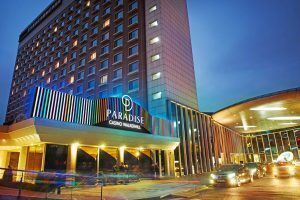 Seoul has always been a popular luxury destination for travelers. Paradise Casino Walkerhill is the highest rated casino in the country, and for good reason. They pride themselves on providing an unforgettable experience for players and foreigners looking to get to know the culture. They do all of this while providing world class service and décor, and many gaming options for players. If James Bond hasn't stayed here already, we'd be surprised.
Greece
Movie Appearances: For Your Eyes Only
Best Casino: Casino Corfu
Location: Corfu, Greece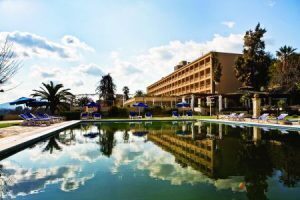 Greece is many peoples' dream vacation and the Casino Corfu is a great place to stop when you're looking for something else to do. With a wide array of games, and luxury essentially at every turn, guests and Bond would surely not be disappointed to spend some time here. With slots, table games and many other player favorites, there is something for everyone at Casino Corfu.
Now that you've got an idea of the best casinos' where Bond has been, can you beat him at his own game? We've put together an analysis of whether he is really a good gambler at all, or simply the luckiest man alive. You'll also find drink recipes, game instructions and of course, some information on his top competitors. Use this as an opportunity to hold you over until No Time to Die is released this upcoming November.
See if you've got what it takes to beat James Bond at the casino, here.