Card Climber is a casino game that has made multi-level interactive online casino gaming more entertaining. Maple Casino strives to offer you online casinos that are a hub of the most innovative and rewarding casino games. Card Climber is one of the games that we have in our portfolio of games that proves we have the best casino games. This game was developed by Microgaming, one of the leading providers of casino software.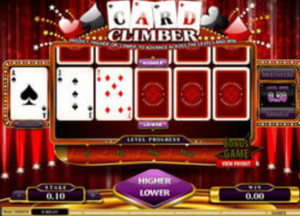 This unique game is presented on a colorful display that is easy to use and simple to understand. The visuals which comprise of the high-quality graphics and animations where intelligently constructed. The sound is crisp, and when coupled with the visuals, they create a very entertaining set-up.
Card Climber Features
The objective of this game is to progress through the levels until a player reaches the highest level which is also the most rewarding level. There is a total of five levels in the game, and each level has five cards. All cards are face down when the game begins, and an extra card is drawn on the left of the bottom row.
The player needs to predict whether the next card in the row is higher or lower than the previous card. If the prediction is correct, the game continues, and the game comes to an end when the player makes a wrong prediction. At the end of five successful predictions, the player is presented with an option to withdraw their winnings or to proceed to the next level. A first level win will reward players with a 5x multiplier on their bet.
The second level offers 33x your bet; the third level offers 197x and the fourth offers 1,177x your bet. In the fifth level, there is a bonus game that is activated. Players can win the jackpot in this bonus game. The player is presented with ten gold coins and is required to select one coin which will award them a prize. The lowest prize a player can win in this bonus game is 3,000x, and the jackpot prize is 10,000x the wager placed by the player.
Enjoying Card Climber in Canada
Canadian gamblers can try their luck on this highly lucrative online casino game on the best casinos featured on our site. Card Climber is a very thrilling game, during the gameplay the player will be entertained and rewarded lucratively. Play Card Climber on one of the best online casino Canada sites.
Game Information

Software: Microgaming
Maximum Coins: 1
Level: 5
Maximum Bet: 10.00
Auto-Hold: No
Minimum Bet: 0.10
Multiplier Symbol: None
Player Level: Beginner, Intermediate, Expert
Wild Symbol: None
Progressive: No
Maximum Jackpot: 10,000-coins
Size of Deck: 52-Cards
Gamble: No
Feature: Bonus Feature