Racial Profiling or BC Rules? Drake In His Feelings about Parq Vancouver
|
Drake is one of Canada's most famous and successful entertainers. His career has spanned television and radio, acting and music, as the Toronto native garnered worldwide acclaim for his accomplishments as a rapper, singer, songwriter, producer, and actor.
When Drake says something, tens of millions of fans listen.
And when he accuses a casino of racial profiling and unfair treatment, the world takes note.
Drake was in Vancouver to perform at Rogers Arena. He has been on tour with Migos and was in British Columbia for two shows on the weekend of November 3-4. What is a global superstar to do when out with friends before a weekend of work? Drake chose to visit Parq Vancouver for some casino action.
The attempt to gamble didn't go as planned. Drake posted on Instagram under alias Champagne Papi about the experience. Drake has since deleted the post.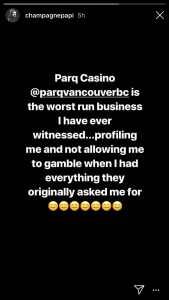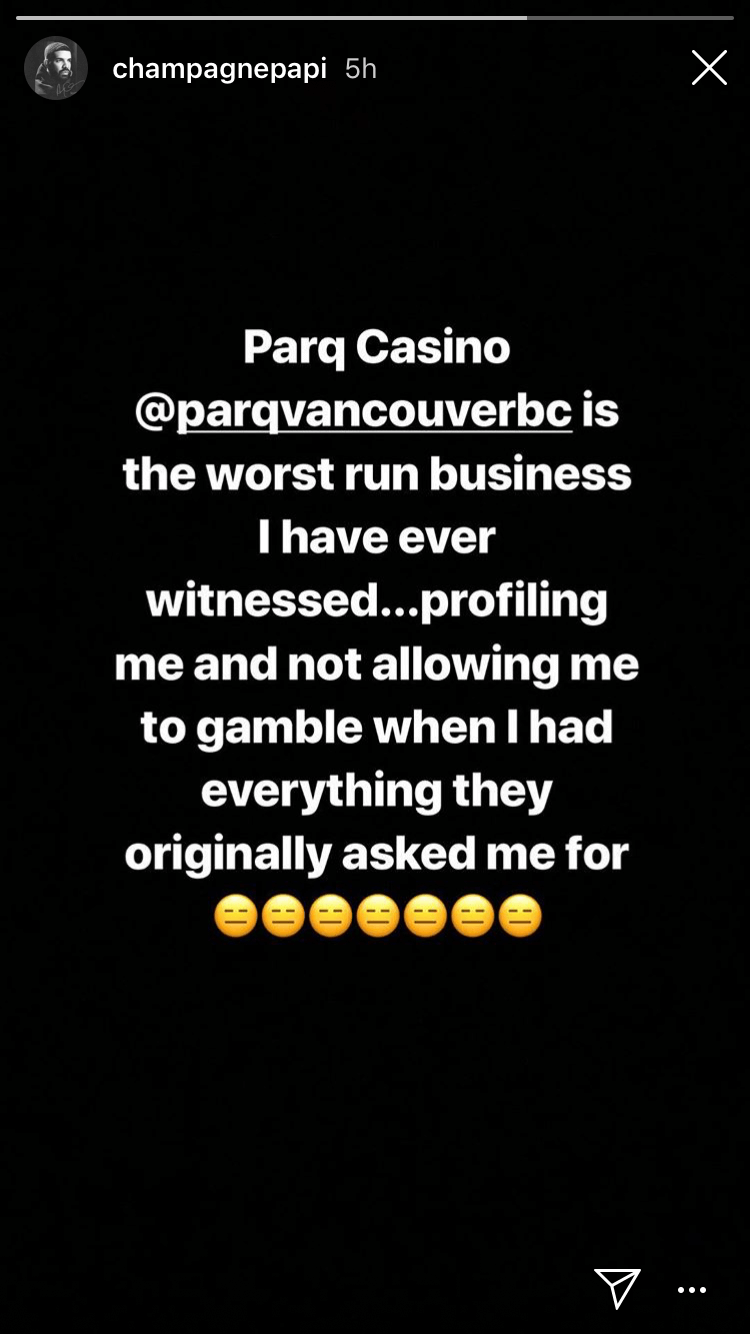 Drake's claim stemmed from apparently trying to gamble with more than $10,000 cash, which requires a receipt per 2018 British Columbia laws. Drake claimed he provided the information but was not allowed to gamble, though the casino claimed it was simply abiding by the rules. Both parties seemed to have calmed since the incident. The aftermath, however, continues as Drake's fans lash out at the casino.
Drake Claims Worst Behavior
According to Drake, the casino racially profiled him and prevented him from gambling despite providing everything requested. Presumably, he was referring to the documentation that British Columbia casinos now require when a gambler attempts to play with more than $10,000 in cash.
In Drake's Instagram post, he subsequently called the Parq Vancouver the "worst run business" he ever encountered. Interestingly, however, this year the venue was voted as the city's best casino.
The singular Instagram post prompted his fans to lash out at the casino located in the downtown area of Vancouver. Parq Vancouver received a deluge of negative messages via all social media outlets, including comments posted on Yelp and TripAdvisor. Some fans said that the casino has also racially profiled them. Others, on the other hand, simply came to Drake's defense.
Interestingly, River Rock Casino in Richmond, BC, used Twitter to reach out to Drake, tweeting at him, "Come park your crew at @riverrockcasino. We got you – last name Ever, first name Greatest. #experiencethetruecanadianway #welovedrake" This post, too, is no longer available.
Parq Issues Emotionless Response
The next day, Parq Vancouver moved quickly to calm the increasingly vocal Drake fans. While its statement did not name Drake in any way, its message was clear that the casino was investigating the incident. Expressing his regret over the matter, Parq Vancouver President Joe Brunini said the casino was constantly trying to ensure that these new regulations are understood by all guests, explaining:
"We are operating in one of the most complex, highly regulated industries and are always looking to better our communication and customer service."
Brunini also denied any racial component to the casino's actions, stating that "We categorically stand against racism of any kind."
Regulations per BC, Not God's Plan
The law in question was implemented in December 2017 by the BC government. The rule states that all casinos must complete disclosure forms regarding any cash deposits or bonds exceeding $10,000. The purpose behind the law is to help stem money laundering through gambling. A review of high-dollar financial transactions at local casinos, predominantly from Chinese gamblers, subsequently led to the law's implementation.
This requires casinos to provide receipts for any transactions exceeding $10,000 for one customer in a 24-hour period. It appears that Drake was that customer. The casino applies the same requirement for all patrons, even Drake.
Parq Vancouver and River Rock Casino protested but complied. Subsequent financials in 2018, however, showed that the new regulations did impact their bottom lines. Meanwhile, the first half of 2018 has seen suspicious transactions reduced to just $200,000. This is down from close to $20 million in 2015, according to BC Attorney General David Eby.