Double Exposure Blackjack is a great take on online Blackjack for CA gamblers. Double Exposure Blackjack is a worthwhile blackjack variant to explore as it's highly profitable. As the name suggests, the difference between other versions of blackjack and Double Exposure Blackjack is that the dealer's cards are exposed. In other words, the dealer's cards are dealt with two face-up cards. This, ultimately, takes a lot of the guesswork out of the game of Blackjack.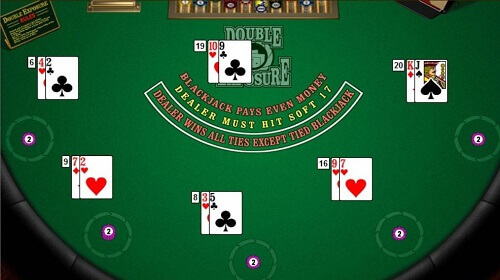 Rules of Double Exposure Blackjack
In this Blackjack variant, players can re-split up to four hands and double up once split is done (doubling is only allowed on a hard 9, 10 and 11).
The dealer will win on all ties except for natural blackjack.
Winnings are reduced form 3:2 to even money to allow the house to make up for the fact that his cards are face up.
Depending on the Online Casino, tied natural Blackjacks can go to the player. Or they can go to a push.
The dealer hits on a soft 17.
A player may stand or hit on 21 or less.
Insurance and Surrender is not offered due to the dealer's cards being revealed.
The deck is shuffled after every single round.
How to Play Double Exposure Blackjack
Double Exposure Blackjack is played in the same way as most other Blackjacks. If you are new to online casinos, choose an online casino that offers this version of Blackjack. Once you're registered, it's just a matter of looking for the Double Exposure Blackjack.
Once you have logged in and ready to play, you can either play alone or with others in Multi-Hand Blackjack. Here is a step-by-step guide to playing this great casino game:
Choose whether to play for free or for real money.
Place your bets.
Allow the ball to fall and see if you have made any winnings.
Why Play Double Exposure Blackjack
Play this version at online casinos and experience an even playing field. This is one of the few table games where you can always see the dealer's hand. Experience a great table game with superb graphics at Canada's best online casinos.