Have you ever seen a player NOT split two aces in blackjack? Most gambling aficionados understand there is one thing you should absolutely always do at the blackjack table, no matter what the dealer is showing. That is to split your aces. When you're dealt the game's most powerful card, not once but twice, you must pounce. It's a power profit move. Experts will tell you to split your eights as well, but we can delve into that strategy discussion in a future article. Point is, to see someone wasting the opportunity of splitting their aces would be pretty strange.
"Hopefully more people will be able to play blackjack in the year '21."
@BlackjackROI has witnessed a lot of strange things over his long-playing career, but this past year certainly takes the cake. With the ongoing pandemic, lock downs and casino shutdowns, 2020 was the year live blackjack came to a screeching halt. An avid player and aspiring pro, who prefers not to have his name mentioned, he is also the organizer National Blackjack Day.
"It's been a slow year for blackjack and casinos overall," he told Team Maple, with an air of optimism. "I've been in Las Vegas a lot this past year, and thankfully it feels like we should experience a big uptick this spring and summer."
What is National Blackjack Day?
National Blackjack Day is today, March 2nd. The date is important, too. Written in odds form its 3:2, the traditional payout for hitting a '21', and it was chosen specifically to celebrate the world's most popular game. Unfortunately, over the years, a disturbing trend has been developing, what @BlackjackROI calls the "scourge" of 6:5 payouts for 21.
"The odds and rules haven't changed much with the pandemic, but I'm afraid they might get worse as casinos try to recoup losses once tourism returns. It's Important for players to look for the best rules even if they're anxious to get back to playing. Always look for 3:2 payouts and stay away from continuous shuffle machines. I have seen more of them recently."
If you'd like to join the movement and support the cause, there are a few simple things you can do:
Celebrate National Blackjack Day today (March 2nd)
Play blackjack at your local casino, if possible, or online
Only play at tables with 3:2 odds
Share your love for the game on social media
Call on casino companies to keep 3:2 pay tables
Why Does It Matter?
Let's face it, we all understand that casinos have the odds on their side. They have to run a business after all. But why should we simply be okay with becoming a bigger underdog to win? Fair play is fair play. It's all in the math.
"Six-to-five blackjacks increase the house's edge by a whopping 1.36%, as opposed to a three-to-two, with all other factors being the same, like the number of decks in the shoe," said Greg Heim, a mathematician from New Jersey who specializes in games of chance.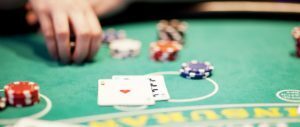 "Just to understand it further, you will lose 30 cents to the dollar every 21 hands on average with 6:5 versus 3:2. When you take a few hundredths of a percent away from pushes, you get the 1.36% number."
Numbers like that are what this day is all about. Awareness and prevention. Running since 2017, National Blackjack Day was born out of frustration, with the idea that recreational gamblers are getting nickel and dime'd into submission. The payout odds have always been 3:2 for 21, which means if you wagered $10 you would get $25 back, or a $15 profit. On that same bet at a 6:5 table you will only get $22 back, only a $12 win.
Other Ways to Celebrate
Chances are you won't be able to get out to your local casino this year to play some blackjack, especially if you're Canadian, but you can always enjoy blackjack online at any of our recommended casinos. There are sites that spread 3:2 blackjack. It's also important to continue studying, working on strategy and practicing, even if you can't do it in a live setting, because the casinos are. They're always fine-tuning their game. Did you notice the parking fees the last time you were on the strip?
There are so many great books on the market as well, like the legendary Beat the Dealer by Edward Thorp, the one that started it all in blackjack. Million Dollar Blackjack is a great read. It's by the late, great Ken Uston, a strategist and author, who popularized the concept of team play, or team card counting, and took untold amounts off the casinos. Incidentally, the 'Blackjack Man', as he was known, also penned Mastering Pac-Man, which appeared on the New York Times Best Seller list. Bringing Down the House is also on that coveted list. Written by Ben Mezrich, it's the story of the famous MIT Blackjack Team, and the basis for the Hollywood hit 21. There's another thing you could do to mark Blackjack Day, enjoy a movie.
Have Fun, Be Social
You might also turn to social media for some betting guidance. One of Team Maple's favourite blackjack timelines on Twitter is @EasyBlackjack, which offers up tips and tricks to win online, in Las Vegas, and around the world. "You'll learn how to get the most from your game," reads its website easymoneyblackjack.com, with the tagline, "discover the winning secret."
Here are just a few of the pearls of wisdom you'll find @EasyBlackjack (and these are just from the past few days):
The common lie one tells himself to keep playing: "I'm due for a blackjack any hand now.
Did you know that intoxicated players lose three times as often as sober players? Free alcohol anyone?
Dear blackjack players, pound this into that thick skull of yours, "It doesn't matter what the next card was!"
Some of the benefits of playing blackjack regularly, and learning the strategies, are improving your memory, reasoning & calculating skills.
Never quit while on a winning streak. You never know how long that heater you're on may last. Wait for your first loss before getting up.
No matter how you celebrate National Blackjack Day, remember, NEVER play at 6:5 tables.
Oh, by the way, why split on eights? Basic strategy suggests two hands starting with an 8 in each one isn't nearly so bad as one starting hand totaling 16.