»

Online Video Poker: All Aces Video Poker Canada
Online Video Poker: All Aces Video Poker Canada
All Aces Video Poker is a Microgaming product that is enjoyed by many Canadians. The objective of the game is to have the hand with the highest value combination cards at the end of the game. However, in All Aces Video Poker, it is all about the Aces. All Aces Online Video Poker is suggested for beginners, as well as Poker fans as it provides the classic Poker experience. All Aces is played with a single 52-card deck and boasts sleek and clean graphics.
For new players, All Aces Video Poker offers access to a range of player assists and comprehensive guides. Four Aces in your hand means a huge win, with a strong hand players will be in the money.
Best Video Poker Casinos
Playing All Aces Video Poker
The straightforward rules and slick interface promises big wins and pleasurable gaming. Players can commit themselves to pure Poker pleasure with this and other games recommended by Maple Casino. The top prize sits at 4,000 coins and betting ranges are from CA$0.25 and $5 per coin. On top of this, Canadian gamblers can bet up to five coins per hand. In order to stand a chance to win the maximum 4,000-coin jackpot, players will need to be betting the maximum number of coins per hand. The 4,000-coin jackpot is given out for landing a Royal Flush, however, if you don't bet the max number of coins, the jackpot will be reduced to 1,000 coins.
All Aces poker allows players to change the sounds and speed of the game, however, there is no auto play function. There is a Gamble feature though that allows players the chance of doubling any win. Should a Canadian player decide to try double their win, they'll be dealt five cards. One of these cards will be facing up. The goal is to choose from one of the face down cards and have it beat the face up card. This can be done multiple times, but if you lose, all your winnings are gone.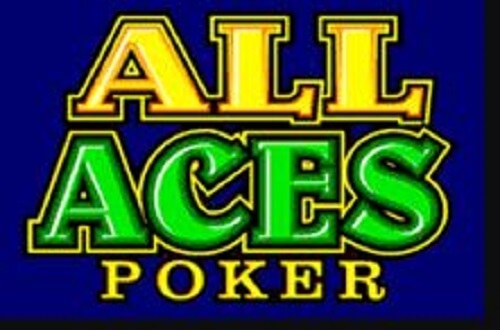 More Online Video Poker Games
Power Poker
Three Card Poker
Double Bonus Video Poker
Deuces Wild Video Poker