»

Aces and Faces 10 Play Power Poker Online Casino Game
Aces and Faces 10 Play Power Poker Online Casino Game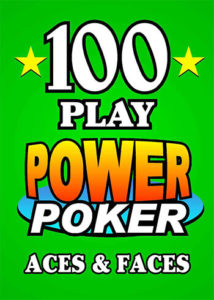 Power Poker is a fast-paced version of Aces and Faces Poker. This is a casino game that will be enjoyed by poker enthusiasts who enjoy an extra challenge. Based on the Aces and Faces Poker game, the Aces and Faces 10 Play Power Poker video poker game offers players an opportunity to play and win with ten hands of poker simultaneously. Each hand is played with a 52-card deck in which none of the cards is wild. Before each game the player places individual bets on the ten hands, they want to play. Aces and Faces 10 Play Power Poker gameplay commences with the decks being shuffled to ensure randomness and fairness. A maximum bet on a hand that has a Royal Flash will reward players with the jackpot prize of 4,000 coins. You will also get high payouts for hands with four aces, four of a kind faces, any four-of-a-kind of Kings, Queens, or Jacks.The other payouts in the video poker game are the same as in the standard Aces and Faces Poker game. Graphics and sound in the
casino game
are of the highest quality as we have all come to expect from games developed by ground-breaking online casino software developers.
Best Canadian Poker Sites
Bonus Games
Every time a player lands a winning combination in Aces and Faces 10 Play Power Poker with Canada's top-rated online casinos, a bonus round will be activated. Players are offered an opportunity to double their payouts in the bonus feature. The Double or Nothing feature will allow players to wager their win for a chance to double it. This is a great feature to use on those small wins as it can turn them into substantial wins.
Play Aces and Faces 10 Play Power Poker online in Canada
Aces and Faces 10 Play Power Poker is one of the most thrilling video poker games you can play in Canada. Enjoy thrilling and rewarding poker gaming like never before with award-winning online casinos. This online video poker game presents the chance to win with up to ten hands of poker simultaneously. This places Aces and Faces 10 Play Power Poker in its own league and is a must-play game for all poker enthusiasts.
Game Information
Software: MicrogamingTM
Maximum Coin Size: 0.10
Hands: 10
Maximum Coin Size: 2.00
Auto-hold: Yes
Maximum Coins: 5
Wilds: None
Size of Deck: 52 Cards
Multiplier Symbol: No
Feature: No
Gamble: Double or Nothing
Player Level: Beginner, Intermediate, Expert
Maximum Jackpot: 4,000 coins
Progressive: No