»

Aces and Eights Online Poker Game 2021
Aces and Eights Online Poker Game 2021
Aces and Eights Poker is a version of online poker that is played with a single deck of 52 cards. Aces and Eights Online Poker game is named after the second highest payout offered within the game. This payout is given when players get a hand containing four-of-a-kind Aces or four-of-a-kind Eights. Canadian poker players will appreciate the entertaining and rewarding gameplay offered in this casino game.
Due to this game being powered by Microgaming, players can expect the highest level of quality and an unparalleled gaming experience. The game involves trying to make the best possible five card hand. When the cards are first dealt, the player gets the opportunity to hold strategic cards as well as discard and replace the rest. Players can utilize the auto-hold feature on offer in the game. The player with the hand holding a Royal Flush is awarded the highest payout. The lowest prize in Aces and Eights Poker is awarded for getting a hand with jacks or better.
Premium Online Video Poker Sites
Bonus Game Features
To make a great game even better, there is a bonus game that players can enjoy while playing Aces and Eights Poker. Players can take advantage of this bonus game feature to increase the size of their winnings. The bonus game offers a "Double or Nothing bet", as the name suggests players can double their winnings in this feature. This feature is only available after a win. The maximum jackpot in Aces and Eights video poker is doubled with this feature. However, it is wiser to use this feature to boost small wins such as the minimum payout of one coin awarded for getting hand with jacks or better on a wager of one coin.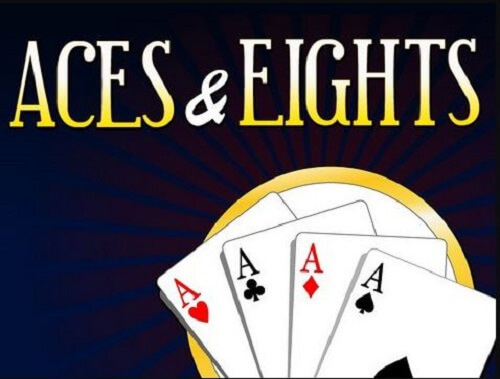 Game Information
Software: Microgaming
Maximum Coin Size: 0.25
Hands: 1 Maximum Coin Size: 5.00
Auto-hold: Yes Maximum
Coins: 5
Wilds: None
Size of Deck: 52 Cards
Multiplier Symbol: No
Feature: No
Gamble: Double or Nothing
Player Level: Beginner, Intermediate, Expert
Maximum Jackpot: 4,000 coins
Progressive: No