»

Aces and Faces Level-Up Poker Canada
Aces and Faces Level-Up Poker Canada
Play the multi-level Aces and Faces Level-Up Poker and enjoy a unique poker playing experience. This video poker game offers progressive poker action. Players get to progress through the four levels of the game with each level offering higher jackpots. This game is a game for poker players who enjoy challenging casino games. However, these online casino games are worth the wager and challenge.
This game is equally entertaining as it is rewarding. Players can expect engaging visuals and audio. The great sound and graphics contribute to making Aces and Faces Level-Up Poker one of the best video poker games at CA online casinos.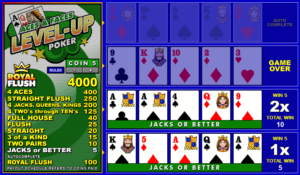 Features of Aces and Faces Level-Up Poker
The Aces and Faces Level-Up Poker game offer players a chance to play a progressive and skills based game of chance. Players will play the game with a deck of 52 cards that has no wilds. Wagering on this game is very flexible. There are five coin levels that players can select from in this game. These range from one through to five. Players can choose coin sizes from CAD$0.10 to CAD$1.00.
This version of video poker is very simple to play. It follows the basic rules of poker and payout in the format of regular Aces and Faces Poker games. Four of a Kind Aces and Four of a kind Faces are among the highest paying hands in the game. To win the jackpot players will need to place the maximum wager of five coins. A Royal Flash pays the jackpot prize of 4,000 coins. However, this jackpot can reach 60,000 coins at the highest level. Players progress to the next level by winning the previous level.
The most interesting feature in the game is the "Free Ride" card. This card will allow players to go to the next level without winning the lower levels. It is at the higher levels that players can win bigger payouts.
Play Aces and Faces Level-Up Poker at CA casinos
Play the multi-level Aces and Faces Level-Up Poker at online casinos that feature here at Maple Casino. This game has a top jackpot of CA$60,000.00. A jackpot is only a couple clicks away.
Microgaming Aces and Faces Level-Up Game Information
| | |
| --- | --- |
| Software: Microgaming | Maximum Coin Size: 0.10 |
| Hands: 1 | Maximum Coin Size: 1.00 |
| Auto-hold: Yes | Maximum Coins: 5 |
| Wilds: None | Size of Decks: 52 Cards |
| Multiplier Symbol: No | Feature: free Ride Card |
| Gamble: Double or Nothing | Player Level: beginner, Intermediate, Expert |
| Maximum Jackpot: 4,000 coins | Progressive: No |