Destroy germs and earn real money while playing the exciting Germinator online casino game. This game was developed by giant online software developer Microgaming. The unique theme and interesting online gaming features will keep players entertained at the safest online Canadian casinos.
Getting rid of disease-causing germs has never been so rewarding. This game is not only rewarding in terms of the frequent payouts, but also in the fun you experience. There are very interesting images that are supported by great graphics and audio.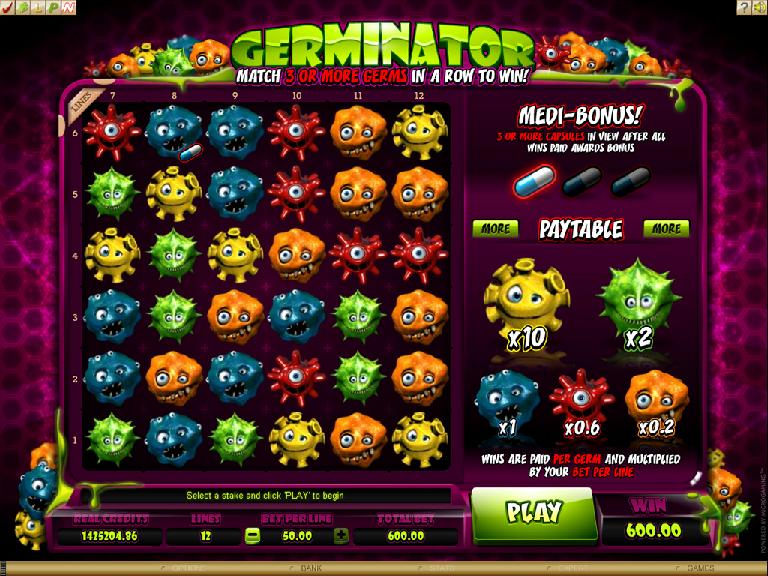 Germinator Features
The Germinator online casino game is played on six reels with six rows of symbols. On these reels, players will find all manner of menacing germs. These reels do not spin, but have a great feature that is known as "Cascading Wins". This feature will replace symbols that are eliminated. Symbols are eliminated from the screen every time three symbols line up in and award the player with a win. The feature can result in several wins in one play. Each type of germ on the reels carries a specific multiplier that is applied on the initial bet.
There is a bonus game that is available on the Germinator online casino game. This bonus is activated when three capsules appear in line on the reels. The bonus is activated after the prizes in the base game have been awarded. This bonus allows players to remove one type of germ from the reels. Once the germs have been eliminated there is an opportunity for more wins.
Betting on the Germinator online slot is flexible as the game has a wide betting range. Players have to wager on all the 12 paylines as it is a fixed requirement.
Play Germinator at the Best Online Casinos
Online casino players will find this game refreshingly different with the unique bonus features and exciting wins. Sign up to play at Canada's top online casinos today!
Game Information
Software: Microgaming
Maximum Coins: 1
Reels: 6
Maximum Bet: $2.00
Paylines: 12
Minimum Bet: $0.05
Multiplier Symbol: No
Player Level: Beginner, Intermediate, Expert
Wild Symbol: Yes
Progressive: No
Maximum Jackpot: 10 coins
Free Spins: No
Scatter Symbol: No
Number of Free Spins: None