Over the last decade, casinos around the world have started to shift. They've gone from being solely a gaming hub to morphing into an all-encompassing entertainment resort where players can come play, enjoy top-notch shows and have a world-class culinary experience at some of the best casino restaurants in the world.
Canada's casinos have mostly followed suit. While it's taken them a bit of time, all of the biggest outlets in Canada now have elite restaurants. With that in mind, let's go over some of the best restaurants on the menu at the biggest casinos in Canada.
L'Atelier de Joel Robuchon
Location: Casino de Montreal – Montreal, Quebec
Located on Notre Dame Island, Casino de Montreal is the biggest casino in Canada. It's got five full floors of action and hosts well over 15,000 people per day. In terms of the offering, you'll find over a hundred different gaming tables with more than 3000 slot machines to boot. It's a very lively place to come and play, as it always feels like there's a buzz in the space.
If you're looking for one of the best casino restaurants in Montreal, and are craving a special experience, L'Atelier de Joel Robuchon is where you want to go. Robuchon, who has sadly passed away two years ago, is one of the most decorated chefs in the world. A visit to L'Atelier – which translates to 'workshop' – is an exquisite experience.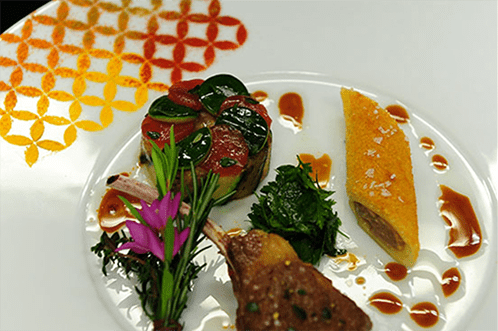 What to Order: Tasting Menu
If you've hit it big on the tables or have some money to blow, the tasting menu is the way to go. It can get quite pricy as the full signature tasting menu is $200 per person. However, you can come on a Tuesday, Wednesday or Thursday and do a four-course menu for $85.
If you could only eat one thing here…that's a tough call. The home-made bread and butter is always a must (included with the tasting menu). Some of the Robuchon classics here are La Langoustine, which is scampi stuffed in ravioli with green cabbage and foie gras, or the l'oeuf de poule, which is a soft-boiled egg with smoked salmon and caviar.
Neros Steakhouse
Location: Caesars Windsor – Windsor, Ontario
Caesars Windsor is undoubtedly one of Canada's top spots as it has a luxury hotel attached to the gaming space. They have plenty of slots – including a number of progressives that get into the six-figure range – as well as table games of every type. In terms of accommodations, the hotel itself has 700 rooms, so it can welcome quite the crowd.
Like with many casinos in Canada, the top spot to eat here is a steakhouse. Neros is a high-end spot, but what's surprising is that the prices are more reasonable. While some steakhouses take you into the $50's and $60's per entrée, you're looking at a range of $29-$41 for most items. When you start getting into some premium options like bison tenderloin ($52) or the 20-ounce dry-aged tomahawk rib eye ($51), you'll start to cross the $50 mark.
What to Order: Roasted Pacific Coast Halibut
This dish has a South Asian feel to it as the halibut is served in a coconut curry broth. Nestled inside are some clams, shiitake mushrooms, carrots and bok choy. It's a lovely option if you don't feel like going down the red-meat path.
St. Germain's Steakhouse
Location: Casino Rama Resort – Orillia, Ontario
Casino Rama has done a great job over the years to brand itself as much more than a casino. From major music acts to comedy stars, they have found a way to attract audiences to come for the entertainment and stay for the gaming. While the gaming might be secondary to some, it's a prime spot for many. After all, they have more than 2,500 slot machines alone along with over a hundred table games too.
In terms of dining, you'll find eight different casino restaurants to choose from ranging from casual to buffets to fine dining. If you're looking for something upper-crust, St. Germain's Steakhouse is the place you'll want to request a reservation.
What to Order: Tenderloin
Steaks are the name of the game here, and you essentially have four main choices based on style and size. There's the eight-ounce tenderloin, 12-ounce striploin, 18-ounce ribeye and 24-ounce porterhouse. If you're in the mood for something tender, it doesn't get much better than the – you guessed it – tenderloin. Top it with crab, asparagus and bearnaise, and you'll have yourself a good night.
Ponte Vecchio
Location: Fallsview Casino – Niagara Falls, Ontario
Few casinos in the country can offer the type of view that Fallsview offers its customers. Yes, as the name suggests, you get a great view of the Horseshoe Falls, which are always majestic.
In terms of gaming, this venue is one of the biggest in Canada. There are 3000 slot machines, with 100 tables for the classics. With a spa, plenty of shops and the Avalon Theatre, which often hosts some big productions, this is really one of the destination-type casinos.
There is a cornucopia of dining options at Fallsview with over 20 different outlets to choose from. Our favorite happens to be the place that received the 2019 Diners' Choice, TripAdvisor Certificate of Excellent and Best of Award of Excellence by Wine Spectator, which is Ponte Vecchio. Named after a famous bridge in Florence, Italy, this joint is – as you could have guessed – an Italian restaurant.
What to Order: Agnello Arrosto
The wine list is exquisite, so consider starting there. After that, there are many excellent directions you can go with the menu. Authentic pastas are always a good choice. The Osso Buco veal shank is always a classic, but I'd recommend the Agnello Arrosto. This is a maple-dijon crusted rack of lamb, which is served with truffle polenta, tomato ragu, lamb jus and a bit of rapini to offset the richness. Pair with a medium or full-bodied red wine and you'll be a happy camper.
The Victor
Location: Parq Vancouver – Vancouver, British Columbia
Parq Vancouver is one of Canada's newest gaming outlets and it's a giant. There is over 72,00 square feet of space to play in Vancouver, although not all of it is devoted to the casino. You'll find more than 600 slots, tons of table games like Baccarat and Blackjack, and Jade Salons for private gaming
The casino restaurants here are modern and chic, which has drawn a lot of locals in to come and dine – even if they're not gaming. That's a telling sign that the culinary scene here is on the mark.
There are a couple of good spots here, but we'll start with The Victor, which is a fusion of steak and seafood. While that sounds like most steakhouses, it's not as this is a contemporary dining room with options like sushi, caviar and ceviche on the seafood side, and bone marrow, porterhouse and wagyu on the meaty side.
What to Order: Tomahawk to Share
If you're coming on your own, the Whole Branzino is recommended, but hopefully you've got company. If you do, go big with the Tomahawk to Share. This showstopper is 50 ounces of heavenly USDA prime beef. You're going to get various types of meat in one – including the fattier part on/near the bone and the marbled meatier part in the middle. It all melts in your mouth.
Honey Salt
Location: Parq Vancouver – Vancouver, British Columbia
If you're looking for something a little more casual, but still trendy at the Parq Vancouver, Honey Salt is an excellent option. There's a real local focus at this restaurant with a farm-to-table approach. Think of it more as a hip neighborhood spot that's still fun, but more dressed down a steakhouse.
There are lots of fun things on this menu but whatever you order, make sure to have a peek at the carefully crafted cocktail menu.
What to Order: Diver Scallops
If you love a golden-seared scallop, this is your place to be. These delicate gems are topped with a truffle jus and served with cauliflower two ways: roasted and puree. It's full of flavor, and it's just one of many exciting options on the menu.
Redwood Steakhouse & Bar
Location: Medicine Hat Lodge – Medicine Hat, Alberta
Medicine Hat Lodge offers more than 27,000 square feet of gaming space, which surprisingly makes it one of Canada's larger casinos. There are plenty of table games, slots and more for the gamers. It's one of the more family-friendly spots as it's part of a lodge, so there are all sorts of family accommodations, like the indoor water slide park.
Redwood Steakhouse & Bar is one of the casino restaurants you'll want to dine if you're staying here. It's received the TripAdvisor Certificate of Excellence Award for four straight years. If you're looking for a deal, Thursdays should be on your radar as they offer a featured half-price menu – including select bottles of wine at half price.
What to Order: Short Rib
Obviously, you can't go wrong with steak at this steakhouse, but the braised Short Rib always hits the spot. Cooked low and slow for hours, then finished with caramelized onions and roasted garlic, the meat easily falls apart at the touch of your fork. This is perfect for those cold winter nights when you want something to warm and hearty stick to your ribs.
Lev2L Sports Bar & Entertainment
Location: Casino Niagara – Niagara Falls, Ontario
Casino Niagara has more than 95,000 square feet of gaming space, making it another one of the biggest casinos in the country. There are over 1300 slots, 30 table games and a poker room. The gaming isn't the only reason people visit, though. They're located right on the cusp of Niagara Falls, so you can game next to one of the world wonders.
One bizarre aspect of this casino is that the dining simply isn't that great. They have just a trio of casino restaurants (in comparison to the rest of this list) but we're highlighting Lev2l Sports Bar for one main reason: it's a great place to watch sports. If you're looking for somewhere to plant yourself for an NFL Sunday, it doesn't get much better than this.
What to Order: Reuben
The menu here is very much bar food, which is to be expected. Most of it is solid but one highlight is the classic Reuben. Warm corned beef topped with sauerkraut, some gooey swiss cheese and creamy Russian dressing on Marble Rye really hits the spot. Sweet, salty, melty and meaty blend together in harmony in this sandwich.
Did we miss one of your favourite casino restaurants? Let us know!