»

Evolution Gaming Doubles Their Profits
Evolution Gaming Doubles Their Profits
The live dealer casino operator, Evolution Gaming doubled their Q3 (third Quarter) profit as seen on the record of the quarterly earnings margin that the company recently posted.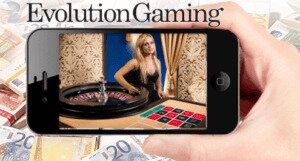 The figures released this week reveal how Evolution Gaming managed to make a revenue amounting to CAD$45.7 million in the previous three months ending on the 30th of September. This is a 56% gain in comparison of the same period last year.
Their earnings escalated 103% resulting in CA$21.8 million while their profit spiked 127% to CA$16.8 million.  Overall income has increased by 57% to CAD$127.7 million and earnings increased by 83% to CA$58 million.
Why Evolution Gaming Is Did So Well
The Chief Executive Officer of Evolution Gaming, Martin Carlesund, accredited the success to their new Dual Play Roulette and Dream-Catcher games. When these games were introduced, online casino players loved them, and they could not get enough. Dual Play Roulette has drawn in many players across the UK and the world since being introduced in August.
In addition to this, Mr Carlesund also stated that the high level of activity from its live dealer casinos during the months of summer also contributed to the increase in their profits. The earnings margin in Q3 got to 47.7%, almost 11 points higher in comparison to the previous year. This is considered as the online casino operator's best margin all in one quarter.
More so, the other contributing factor was how Evolution's live dealer casino studios we expanded in the third quarter and was expected to house around 400 tables by the end of this year. Mr Carlesund further added that this on its own makes Evolution Gaming Europe's most prominent casino.
Synopsis
When the third quarter ended, Evolution Gaming inked a deal to offer live online casino games to internet casinos of Bulgaria's national lottery. Their products are expected to be launched soon on the7777.bg website anytime this quarter.