The Kashatoa online casino game has explosive rewards. Maple Casino is proud to bring this game to the Canadian online casino gaming community. This is why we are regarded as the home of all best online casino games.
Microgaming is the developer of this unique online game. This means the game is of the highest quality. The gameplay is very smooth, and the graphics are very crisp. Sound on this online game will blow you away.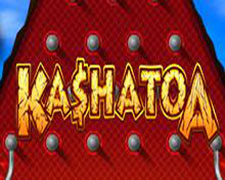 Features in the Kashatoa Online Casino Game
The Kashatoa online casino game is based and shaped like a volcano. Gaming will take you into the thrilling world of interacting with a live volcano. In this game, a slip up will see your wager being burned by the hot lava. Getting it right will see your efforts being rewarded by multipliers.
To get the game going players need to place real money wagers. The minimum that can be wagered in this game is CAD$0.10, and the maximum bet accepted in the game is CAD$100.00 per play. This makes the game ideal for both budget players and high rollers.
Once the game begins players are exposed to a pinball-like online device. In this case, instead of a pinball, the coin that is wagered is the one that travels through the maze. The maze will direct the coin either to its fiery demise or a multiplier cup located at the bottom of the volcano. Along the way to the bottom, the coins can activate one of two bonus games that are available. The bonuses are the Wheel Spin bonus and the Reel Spin bonus.
The cups at the bottom of the volcano hold multipliers of various sizes. The smallest multiplier on offer is 1x, and the highest multiplier that can be won in this game is 30x. The more that a player wagers, the more they stand to win in real money prizes.
Gamble on Kashatoa at Maple Casino
The Kashatoa online casino game erupts into life here at Maple Casino. Join one of our recommended Canadian online casinos today to get a chance to land a lucrative prize playing this very entertaining online casino game.
Game Information

Software: Microgaming
Minimum Coin Size: 0.10
Paylines: None
Maximum Coin Size: 100.00
Reels: None
Maximum Coins: 1
Wild Symbol: No
Free Spins: Yes
Multiplier Symbol: No
Number of Free Spins: Varied
Scatter Symbol: No
Player Level: Beginner, Intermediate, Expert
Maximum Jackpot: 30x
Progressive: No