Dance with the devil for an opportunity to land a hot jackpot. Fire and Dice is a fiery slot that is very entertaining and rewarding. The theme of this game is based on hell, and it comes complete with its own hot, but scary, she-devil.
Fire and Dice is one of Microgaming's more long-haul style games. This slot is designed for players who want a quick fix. Only patient players will manage to get to the she-devil to give away the treasures she is holding. This game can be found on any of Maple Casino's highly-recommended casinos for online Canadian players.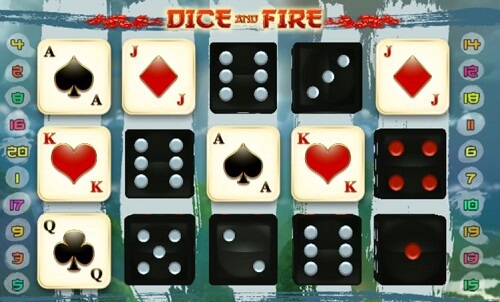 Fire and Dice Features
Fire and Dice is a very original and creative online slot that players of classic slots will enjoy. The base game is presented in a three-reel format that has only one payline. The symbols on the reels are Sevens, Bars, and Cherries. These symbols will not reward players with cash payouts but with dice spins. Sevens will result in the highest number of dice spins which is 50; Bar symbols will reward players with 15 dice spins, and the Cherry symbols will reward players with five dice spins. The dice spins take place on a second screen.
There are features that will improve a player's chances of getting a combination that will reward them with dice spins. These features are the hold, nudge and Shifta features which are a common sighting on slots from Microgaming. The hold feature allows players to hold a reel in the same position while the other reels spin. Nudges allow a player to push a reel so that it shows the next symbol. The Shifta feature makes the reels spin in a winning combination.
The dice spins take place on a second screen as previously mentioned. On the second screen, the game is played on three reels with five lines. The objective of the game is to land three die with the same pip value on a payline. As you can expect, the lowest payout is awarded for lining up die with a pip value of one. The highest payout is for lining up die with a pip value of six. This combination pays out 500x your bet.
Fire and Dice at Maple Casino's Best Casinos
Fire and Dice is an innovative slot that will entertain and thrill Canadian gamblers at online casinos. This is one of the best amusement with prizes game at any Maple Casino top listed casino.
Game Information
Software: Microgaming
Maximum Coins: 1
Reels: 3
Maximum Bet: $10.00
Paylines: 1
Minimum Bet: $0.10
Multiplier Symbol: No
Player Level: Beginner, Intermediate, Expert
Wild Symbol: No
Progressive: No
Maximum Jackpot: 500 coins
Dice Spins: Yes
Scatter Symbol: No
Number of Dice Spins: Up to 50