10 Ways to Live Your Best Life While in Quarantine
Because Self Isolation doesn't have to suck.
We'll give you 2-to-1 you didn't see this coming. A global pandemic scare resulting in mass hysteria? The scenes have been crazy. Everything from the great toilet paper shortage of 2020, to the mile-long line-ups outside Costco's everywhere. Even the end of sports as we know it? The panic is real. And now, major casino corporations across North America have joined in and are closing their doors to the public. No more gambling at brick and mortars? Even Daniel Negreanu, who sits third on poker's all-time money list with more than $42 million in winnings, is feeling it too. The Canadian is calling for the cancellation of all poker, everywhere.
So, with the entire world seemingly on lock down, what are we to do? Professional sports leagues like the NHL and NBA have blown their whistle on proceedings, the media is telling us not to gather in large groups and now 'Kid Poker' is suggesting we shuffle up but not deal. Is it really game over? No. Odds are the interruptions will only be temporary and hopefully life as we know it will get back to normal soon enough. In the meantime, there's lots you can do to stay positive and stay busy. Just as Negreanu attempts to make the most out of the cards he's dealt, we should try to make the most out of our new found home-alone time.
Here are 10 Things you might consider trying during your time in quarantine, social distancing and lock down:
1. Exercise. Ugh
Wouldn't it be nice to fulfill your New Year's resolution during what would have been March Madness? Better late than never. Your body is your temple, and there's no better time than the present to get active – especially during a health crisis. There is a treasure trove of home workout videos available on youtube that don't require a lot of space or equipment. You don't need a gym to Zumba.
2. Become a Yogi!
Yoga with Adriene is one of the most popular channels on Youtube. She a whopping 6.2 million subscribers and is growing daily. The host, Adriene Mishler, an internationally renowned yoga instructor from Texas, is known to say, 'find what feels good.' It's an apt motto for the times we're living in. Yoga is great for the body, mind and spirit. Breathing techniques & meditation can help calm nerves & lower blood pressure. With the coronavirus lurking, we must find what feels good.
3. It's about time you tune that Guitar..
Not everyone is musically inclined but there's no harm in trying. Bang a drum. Bend a few guitar chords. Now's the time. The famed German philosopher and composer Friedrich Nietzsche once said, "without music, life would be a mistake." Don't make a mistake in this time of self-quarantine. Play the piano. If an actual instrument is too difficult or intense, there are other ways to channel your inner Paul McCartney or Eric Clapton. How about air guitar?
Fun fact: The 2020 Air Guitar World Championships will be held in Finland from August 19-21. It's time to practice.
4. The Art of Life
"Painting, pal," tweeted @DermotSnooker, in response to the COVID-19 outbreak, and the subsequent fears of venturing out into public spaces. His twitter bio reads, "mostly snooker and darts," but perhaps it should read "mostly snooker, darts and art." The 45-year old from Northwest, Ireland, only took up painting five years ago, when he started going to art classes. You wouldn't know it by looking at his work. He's very good.
"I'm not a natural talent, and I use the same system as my teacher," he said.
He paints in a natural progression and uses oil as his medium. First, he decides on a picture he likes, then he'll choose a canvas, make a grid on it, and then transpose the image onto the canvas. Drawing in pencil first, next he'll complete a process called 'inking,' where he outlines the picture in ink before finally adding colors.
"You get better at mixing your colors over time and improve as you go along. It's so satisfying to look at your own work when it's finished."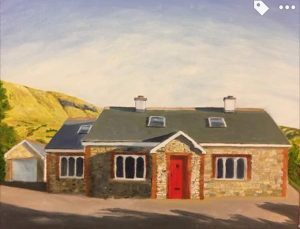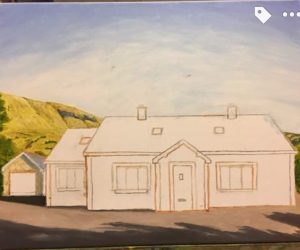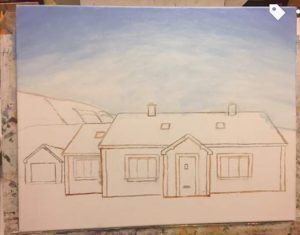 5. Are You Canada's Next Top Chef?
With the shelves at grocery stores across the country becoming barer by the minute, maybe it's time to learn how to cook. There's no telling how long the panic will last, or the food for that matter, so it might be logical to get crafty in the kitchen.
6. Staying Competitive
Maple Casino is a great resource for gamblers, so use it. With Canada best online casino guide, Maple Casino is devoted to connecting players to the best gaming sites in Canada. There are reviews and ratings on online casinos, games and slots, Team Maple works hard so that readers feel safe and confident in the games they choose or the sites they play on.
You'll also learn how casino bonuses work, everything from free spins to loyalty rewards, what casinos are compatible with mobile phones and how to set up an online account. In the 'News' section, you'll find a wealth of the latest information from the casino and gambling world, plus a plethora of strategy articles. Why not read them? Learn. Stay sharp.
More importantly, practice makes perfect. Did you know Beowulf, Firestorm and Jewel Blast are three of Canada's favourite online slots games? Jackpot City Casino has been given a 5/5 rating and is listed as Canada's 'Best Canadian Casino' for 2020. It offers a $1,600 bonus. Take advantage of those bonuses. Better yet, why not try all the games on offer at Maple Casino. You can play from the comforts of home and gain some valuable experience in the process.
7. Spring Cleaning.. You've got to do it
Timing is everything. With spring just around the corner, it's time to Marie Kondo! What more can we say?
8. Netflix & Chill?
There's no more hockey to watch but we still have Netflix. Now is the most opportune time to binge watch that series you've heard so much about. There's a long list of movies to keep the betting-types busy; Rounders, The Cincinnati Kid, The Gambler, Tombstone, and 21, just to name a few.
If you're in a need of a sports fix, there are some great flicks to keep you occupied, perhaps ones you haven't seen in a while. Hockey fans, when was the last time you saw Slapshot or The Mighty Ducks?
Incidentally, there's a memorable scene in the movie Semi Pro, starring Will Ferrell, where a bear storms onto the basketball court and causes everyone to scurry. Ferrell's character screams out, "Everybody panic!"
On that note, try to avoid movies like Contagion, there's enough panic already. One virus at a time.
9. Become a Green Thumb, Literally
Marijuana has been legal in Canada for close to two years now and more people are using it. It's more accepted nowadays. In all but two provinces, Manitoba and Quebec, each household is allowed to grow up to four cannabis plants from "licensed seed or seedlings." Why not learn to grow your own? It may prove to be a worthwhile hobby and will save you money. That's what you'd call scooping the pot.
10. Live. Stream. Everything
The piece de resistance? Stream it all. Simply wire your house for sound, set up a few cameras in every room and voila, you'd have your own 24/7 live broadcast, featuring all the aforementioned activities. You could stream the slots, give tutorials on growing cannabis, become a movie critic with a thumbs up or down, and even start your own cooking show, all while the world tunes in.
Who knows, you might just become a celebrity. With everything on lock down, chances are we'll watch. What else are we going to do?