If the world didn't already know, it certainly does now: Michael Jordan likes to gamble. The greatest player and one of the biggest celebrities the game of basketball has ever seen. A 6-time NBA champion with the Chicago Bulls. And now has played a starring role on television the past month, in The Last Dance. ESPN's 10-part documentary series is a massive hit, averaging close to 6-million viewers every episode. And with most pro sports still on lock down, it's no surprise. It's the only show in town. Air Jordan has been getting loads of air time. And, two things are clear, he hates to lose, and he loves to wager.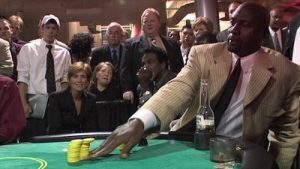 Jordan led the Bulls to six NBA championships (1991-1993 & 1996-1998), and was named the Most Valuable Player in all six finals. An NBA record. He also won the scoring title 10-times, another NBA record. The list of his on-court accomplishments is as long as the list of his endorsements. During his heyday, sports fans everywhere wanted to 'Be like Mike.' The only blemish on his sparkling resume has been long-standing rumors of a gambling problem. Thought to be the reason for his first retirement following the 1993 season, something he addressed in episode 6.
I don't have a gambling problem. If I did, I'd be starving. My wife would've left me and my kids would be starving. I never bet on games — I only bet on myself, and that was golf. Do I like to play blackjack? Yeah, I like playing blackjack. There are no laws with that.
MJ's love for friendly wagers, and the longtime narrative of a gambling issue, hit the tipping point in 1993 after he spent a night in Atlantic City. This was with his father during a playoff series with the New York Knicks. They didn't get back until the wee hours and, later that day, the Bulls lost Game 2 of the Eastern Conference Finals. The press went ballistic, while Jordan claimed he simply needed to blow off some steam. Not long after that, Richard Esquinas released his book, Michael & Me: Our Gambling Addiction. This alleged Jordan owed him $1.2 million over a bet.
Celebrities & Sports Stars Who Love To Gamble
Michael Jordan isn't the only sports legend who likes to keep things interesting with a bet or two. Over the years, many famous personalities have made headlines for their propensity to gamble:
John Daly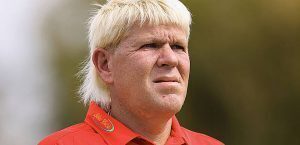 Big John, or Long John as he was known, for his driving distance off the tee, liked to 'Grip It & Rip It' in the casino. Almost as much as he did on the golf course. Daly won two of golfs majors, the 1991 PGA Championship and the 1995 British Open. And has captured tournaments all over the world. He is also a successful businessman. Having released two music albums, authored books and, thanks to his charming, down-to-earth personality, has earned millions through endorsements and public appearance fees.
The problem? He lost most of it in Las Vegas. In his 2006 autobiography, Daly revealed the extent of his staggering addiction. He claims to have lost between $50 million and $60 million over a 15-year period. One night at the Wynn, he squandered $1.5 million playing on a $5,000 slot machine.
Ben Affleck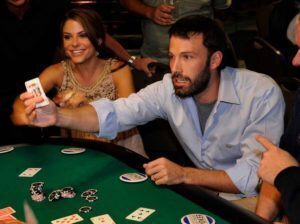 One of Hollywood's leading men celebrities is also one of the world's biggest gamblers. Known for such blockbusters as Armageddon, Pearl Harbor, and The Sum of All Fears, Ben Affleck feels just as comfortable wearing his poker face on the casino floor as he does wearing make-up on the big screen. Yes, he's won two Academy Awards (Best Original Screenplay, Good Will Hunting& Best Director, Argo) and three Golden Globes, but did you know he's also won the California State Poker Championship? He did that in 2004 for a tidy $356,400.
Make no mistake, the 47-year old can play. He's qualified for the World Poker Tour finals. He was also one of many celebrities who took part in Molly Bloom's high-stake poker games in the mid-2000's. He has played the World Series of Poker too.
Fun Fact: Ben Affleck's love of cards doesn't end with the game of poker. In 2014, after a series of big wins aroused suspicion of possible card counting, he was banned from playing blackjack at the Hard Rock Hotel in Las Vegas. Counting cards is not illegal, but it's highly frowned upon by casinos. Affleck has always denied the allegations.
Shannon Elizabeth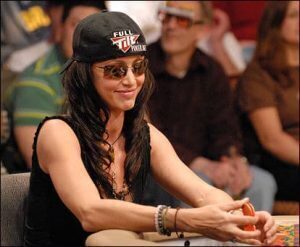 This celebrities' an actress and fashion model, we know her and love her as Nadia. The beautiful foreign girl in the American Pie series of films, all of which were a box office success. She's also starred in Scary Movie, Jay and Silent Bob Strike Back, and Love Actually. Shannon has enjoyed a wonderful career in Hollywood, but her true love may be poker. While she doesn't play in many major tournaments anymore because she's busy running an animal rescue shelter in Cape Town, South Africa, Elizabeth has dedicated a large part of her life to the fine arts of checking and raising.
The 46-year old has had some great teachers along the way too. Under the tutelage of the likes of Daniel Negreanu, Antonio Esfandiari and Phil Laak, Elizabeth has won a few celebrity events. She has played the WSOP main event, and has cashed four times at the World Series of Poker. In 2006, she was sponsored by then online giant Full Tilt Poker. The following year she reached the semi-finals of the NBC National Heads-Up Poker Championship, where she outlasted several of the game's top professionals.
Fun Fact: Shannon Elizabeth found a way to bring together her two loves, acting and playing poker, by appearing in two poker flicks. In 2006, she starred in the Burt Reynolds movie Deal, about an ex-gambler who returns to the World Series to face his hot-shot protégé at the final table. The following year, she was featured in The Grand, a comedy featuring Jason Alexander, Woody Harrelson and Doyle Brunson.
Pete Rose
There is no doubt the man they call 'Charlie Hustle' should be in the Baseball Hall of Fame. But the fact is, he isn't. Pete Rose was one of the greatest hitters the game has ever seen. He still holds a number of MLB records, including most hits (4,256), most games played (3,562) and most at-bats (14,053). He won three World Series rings, three batting titles, one Most Valuable Player award, and two Gold Gloves. Not only did Peter Rose play from 1963 to 1986, he also managed the Cincinnati Reds from 1984 to 1989. And yet, he is still not honored at Cooperstown with all the other greats.
The reason is simple; he bet on baseball, even on games he managed and played in, which is considered a big no, no. And he was penalized with "permanent ineligibility from baseball" by the league. The issue of his possible reinstatement and election to the Hall of Fame remains contentious throughout baseball.
Norm Macdonald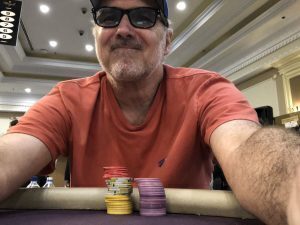 "This just in," is how you might expect the story to begin, "this Canadian likes to gamble!". Norm Macdonald, one-time anchor of Weekend Update on Saturday Night Live, is one of the world's most famous comedians and celebrities. He is also a writer, actor and podcaster. Despite a few setbacks, like being fired from SNL, the 60-year old has essentially come up 'aces' on the career front. The same, however, cannot be said on the topic of casinos.
It all started with a huge win in Atlantic City. A six-figure score at the craps table, which was the catalyst for his addiction. But from there he suffered several setbacks. In 2011, Macdonald admitted he lost all his money three times gambling, and that he once dropped $400,000 in a single session on the casino floor.
On a positive note, the Ottawa-native has had much more success at poker than he has at craps, blackjack or sports. He hosted the seventh season of High Stakes Poker on the Game Show Network. And proved his chops at the 2007 WSOP, where he placed 20th out of 827 entrants in a $3,000 No Limit Hold'em event. He also reached round two of $5,000 World Heads-up Championship.
Jennifer Tilly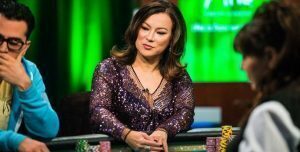 She's been nominated for an Academy Award, is an icon of the horror film industry, and has managed to bluff her way to the top of the poker world. Yes, Jennifer Tilly has an impressive resume. Her IMDB profile is littered with credits, but she is best known for her role as Tiffany Valentine in the very successful Child's Play franchise. Her father was a gambler and poker player, and she has carried on the family tradition, big time.
A regular on the show High Stakes Poker, where she competed alongside her boyfriend Phil Laak, a WSOP bracelet winner and one of the best cash game players in the world, Tilly has been the feature attraction on live streamed games all over the world. Not only for her poker ability, but her effervescent personality as well. She is always chatting, cracking jokes and smiling at the table. She is also known to wear low-cut tops while playing. She's good action as well. Tilly has no problem sticking her chips in the middle. In 2005, she captured the $1,000 Ladies Championship at the World Series of Poker for $158,625.
James Woods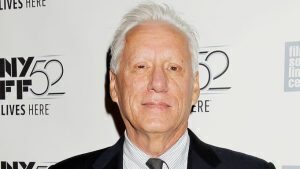 On Any Given Sunday you might just find celebrities like James Woods in the poker room, gambling it up. Woods, who played Sharon Stone's sleazy boyfriend in Martin Scorsese's 1995 classic Casino, is an avid card player and has competed with the best in the world on many occasions at the World Series of Poker. He's had a few deep runs, too, reaching the final table of a $3,000 No Limit Hold'em Shootout event (7th), and a $1,500 Dealers Choice event in 2018 (5th).
To date, Woods has $332,248 in live tournament earnings.
Charles Barkley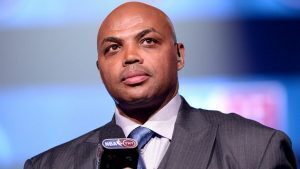 We started with basketball celebrities, so we'll end with the lay-up that is NBA legend Charles Barkley. A 5-time NBA first team All-Star. Sir Charles is a compulsive gambler, admitting as much in a 2007 interview on ESPN, when he revealed that he had lost about $10 million to the casinos. He once dropped $2.5 million during a six-hour stretch playing blackjack. The numbers may seem obscene, but Barkley claims he doesn't have a problem because he can afford it.
"It's not a problem. If you're a drug addict or an alcoholic, those are problems. I gamble for too much money, as long as I can continue to do it, I don't think it's a problem. Do I think it's a bad habit? Yes, I think it's a bad habit. Am I going to continue to do it? Yes, I'm going to continue to do it," he later said in an interview on TNT.
Big Names, Big Games
Let's face it, the stars and celebrities of sports and Hollywood know exactly what the rest of us do. Gambling is a super fun and exciting. All kinds of celebrities have ante'd up and played the World Series of Poker. Some return each year for the world championship, including the likes of Bard Garrett (Everybody Loves Raymond), Jason Alexander (Seinfeld), and Kevin Pollak (The Usual Suspects). Pollak actually made waves in the 2012 WSOP main event, when he placed 134th out of 6,598 players for $52,718.
In the 2014 best-seller Molly's Game, which was later turned into a movie by the same name, Molly Bloom detailed the exploits of the private high stakes poker games she ran that attracted wealthy people, sports figures and Hollywood celebrities. Leonardo DiCaprio, Macaulay Culkin, Matt Damon and Mary-Kate Olsen were all part of the roster, as was Tobey Maguire.
It raises an interesting question, doesn't it? Could Spiderman take Michael Jordan one-on-one? Let's bet on it.