Offside and Seek is one of the most rewarding instant win games you will find in Canada. This scratch card style game has become a favourite with players that use online casino games in Canada. The reason for its popularity is most probably a combination of the big rewards on offer and the excellent gaming.
Offside and Seek is a creation of the giant online casino games developer, Microgaming. Their name on a game is a guarantee of smooth online casino gaming. The audiovisuals on this online instant win game are just phenomenal.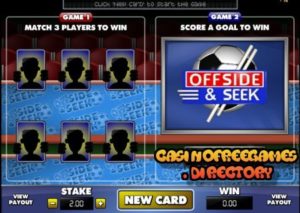 Offside and Seek Features
As previously indicated, Offside and Seek is an instant win online casino game. This game has two games in which players can win. One game is a scratch and wins type of game, and the other is a skill based game that is known as the the "Score a Goal" game. Both games appear on the same screen. The scratch game is on the left side of the screen while the "Score a Goal" game is on the right side of the screen.
In the scratch game, a player is required to match three soccer players on a card that has six options from which players can select.
The "Score a Goal" game is an arcade style game. As the name of the game suggests, players need to score a goal in order to win in this game. The game presents players with a corner kick and players have to score from a set piece in order to win.
Each of the soccer players on the cards has a multiplier that they are representing. The top multiplier that casino game players can win in this game is 10,000 times the bet. Therefore, the more money that is wagered, the higher the potential win.
To play both games only one wager is required. The minimum wager that is accepted in this online casino in Canada game is CAD$0.50. The highest bet that can be placed on this game is CAD$10.00.
Offside and Seek at Online Canadian Casinos
Win and win again while playing the Offside and Seek online casino game. This game has options and settings that allow it to be highly customizable. These enhance the online gaming pleasure.
Game Information
Software: Microgaming
Minimum Coin Size: 0.50
Paylines: 2 scratch games
Maximum Coin Size: 10.00
Reels: –
Maximum Coins: 1
Wild Symbol: No
Free Spins: No
Multiplier Symbol: Yes
Number of Free Spins: None
Scatter Symbol: No
Player Level: Beginner, Intermediate, Expert
Maximum Jackpot: 10,000 Coins
Progressive: No