»

Aces and Faces 100 Play Power Poker Canada
Aces and Faces 100 Play Power Poker Canada
Aces and Faces 100 Play Power Poker is the most challenging version of Aces and Faces Poker at Maple Casino's top-rated casinos. As a product of Microgaming, this game offers thrills and entertainment. One hundred hands of Poker, is about as challenging as a game of poker can get. If you enjoyed playing 10 and 50 hands of poker, you will love playing this version with 100 hands. The game requires a little bit more concentration, but the extra effort is worth it.
Aces and Faces 100 Play Power Poker has outstanding visuals and audio, which make the gameplay even more appealing. The gaming experience that you will be exposed to while playing this video poker game is first class all the way.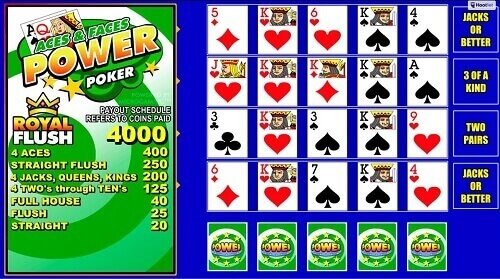 Features of Aces and Faces 100 Play Power Poker
In Aces and Faces 100 Play Power Poker, each hand is played with a separate deck of 52 cards. Players can enjoy this game in either beginner or expert mode. These modes offer players with a range of features which make the game more enjoyable. In the beginner mode, there is an option to play the game using the auto-play function.
The expert mode allows players to determine the speed at which the game is played. There are four speeds to choose from; these speeds are slow, medium, fast, and fastest. Playing the game in expert mode gives you access to statistics from previous games. Intelligent use of this data can dramatically improve your video poker strategy.
Playing Aces and Faces 100 Play Power Poker
Stand a chance to win the 4,000-coin jackpot, several times, in this video poker game. Get a Royal Flush on a hand to win this jackpot. Landing the jackpot winning combinations on multiple hands will result in players winning multiple jackpot payouts. Four-of-a-kind Aces will reward players with the second highest payout. A Straight Flash is the third highest payout while any four of a kind Kings, Queens, and Jacks will give the fourth-highest payout.
Enjoy unmatched poker thrills while playing the 100 hands of poker available in Aces and Faces 100 Play Power Poker at Canada's best online casinos. Aces and Faces 100 Play Power Poker is among the best of the best video poker games you will find in Canada.
Game Information
Software: MicrogamingTM
Maximum Coin Size: 0.01
Hands: 100
Maximum Coin Size: 0.25
Auto-hold: Yes
Maximum Coins: 5
Wilds: None
Size of Deck: 52 Cards
Multiplier Symbol: No
Feature: No
Gamble: Double or Nothing
Player Level: Beginner, Intermediate, Expert
Maximum Jackpot: 4,000 coins
Progressive: No