A Prosperous Year for Atlantic City
|
We have just stepped into the New Year, and some have it better already. The same can be said for Atlantic City which will see the opening of the Hard Rock Hotel & Casino, The Beach at South Inlet and the Stockton University Gateway project. Other reports also forecast the re-opening of the Revel. Great way to start 2018, Atlantic City?!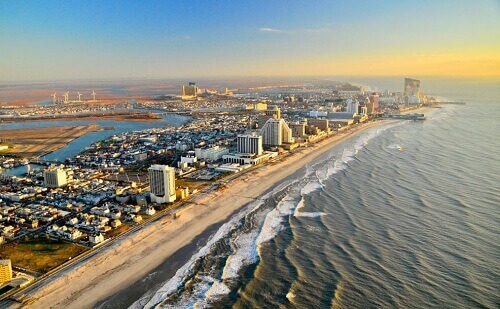 Hard Rock Hotel & Casino Atlantic City Opens
Hard Rock is set to open its Atlantic City Property in summer this year. The casino operator announced its grant to reimagine the Trump Taj Mahal into a well-established hotel and casino resort in December last year.
The casino will provide a range of gaming opportunities and will accommodate 2400 slot machines and 130 table games.
How much for the casino?
Hard Rock Atlantic City will be worth a whopping $500 million. And, according to the company, the resort is expected to bring about more than 3000 permanent jobs and 1 000 construction jobs.
Included to assist in the project is the 'Friends in Action' class of 2017/18. At least 15 young people were selected to get trained and assist in constructing Hard Rock A.C. The train-to-hire programme teaches the candidates math in construction, electrical work and job site safety with a possibility of employment.
How Hard Rock could benefit Atlantic City
Despite generating jobs, the opening of the casino will lead to many visits in the city, which is likely to boost tourism and the overall economy.
According to an independent analyst for transport, Anthony Marino, "all things considered 2018 shapes up as a very good year for Atlantic City if only because of Hard Rock.
He adds to say: "one thing I feel comfortable in predicting is that in 2018 the number of visit-trips will increase, snapping a 12-year streak of annual decreases since visitor numbers peaked in 2005 at just under 35 million."
Stockton's hospitality and tourism management professor, Brian Tyrrell says that if the resort becomes successful in growing the market it could help all other properties.
Atlantic City: More developments
As mentioned earlier, the former Revel Casino might shine again. If only someone finally buys it. Marino believes the reopening could be quite beneficial to Atlantic City. "If anything significant is implemented at Showboat or Revel/Ten next year AC may really be on a roll," said Marino .
Furthermore, other developments in the city include the opening of the Beach at South Inlet and the Stockton University Gateway development.
More so, if the federal government re-looks the ban on sports betting, all casinos sitting in the area will benefit and generate very good revenue.