Former US Admiral Accused of Counterfeiting Casino Chips
|
A glittering naval career ended in ashes for one US admiral who has now been accused of making the counterfeit casino chips he was caught playing with in June 2013.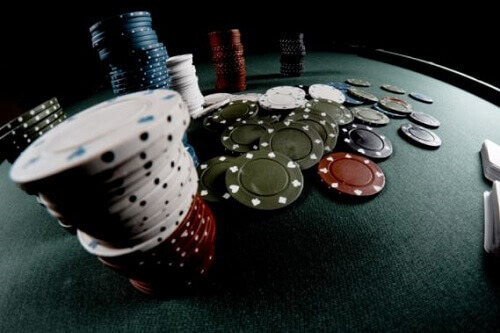 Admiral Counterfeits Casino Chips
At the peak of his career Rear Admiral Timothy Giardina was a three-star admiral and second in charge at Strategic Command, the headquarters of US nuclear forces.However a series of 'lapses in judgment' saw him initially suspended, and subsequently fired from his high-powered post, moved to a desk job in Washington, and reduced in rank to two-star admiral.
As reported by The Guardian, while "Legal Gambling by Strategic Command officers is neither prohibited nor limited by policy", Giardina's actions saw him given a written reprimand and a $4,000 fine for "conduct unbecoming to an officer". The publication went on to state that the "navy chose not to pursue a court martial as it was uncertain it could get a conviction".
The almost farcical chain of events occurred at the Horseshoe Casino in Council Bluffs, Iowa, where Giardina was a familiar figure, a mere 15 minute drive from the Strategic Command base. The admiral was a welcome regular, known as "Navy Tim", and an enthusiastic Poker player, but has fervently denied the navy's attempts to label him a problematic gambler. In a written statement refuting these claims, he stated, "Regardless of anyone's opinion on the matter, disapproval of the legal manner in which I spent portions of my off-duty time is not adequate grounds to allege criminal misconduct."
Admiral Not So Admirable
What is irrefutable is the fact that in June 2013 he was caught using counterfeit chips at a Poker table at the Horseshoe Casino. Giardina initially claimed that he'd bought them from a man in the bathroom, but later changed his story to say that he'd simply found them in the bathroom and regretted not handing them in to security.
An ongoing investigation by Naval Criminal Investigative Service (NCIS), whose reports were recently seen by the Associated Press, states that Giardina's DNA was found on the underside of stickers that were used to make genuine $1 Poker chips look like $500 chips, which suggests he was involved in the actual fakery rather than simply having been caught using the chips. However this DNA is not conclusive evidence as it could have been transferred onto the sticker's adhesive during the investigation.
Throughout this Giardina has denied his involvement in the forgery, insisting that he had not even realized that the chips he allegedly found were fakes. In his written statement he said he regretted his actions but the "lapse in judgment does not make me a thief and a criminal." He went on to state that he suspects the chips were left in the bathroom on purpose. "I do not believe I was singled out to find them, but believe that I was a patsy for someone who wanted the chips to be found."
Unsurprisingly, Giardina was given a lifetime ban by Caesar's Entertainment Corp, owners of the Horseshoe Casino where he was caught.