Canadian rapper Drake claims Vancouver casino racially profiled him
|
Hip hop star Drake took to his Instagram account early Saturday morning to let his 50 million followers know about the poor service he received at Parq Casino in Vancouver, British Columbia.
"Parq Casino @parqvancouverbc is the worst run business I have ever witnessed…profiling me and not allowing me to gamble when I had everything they originally asked me for."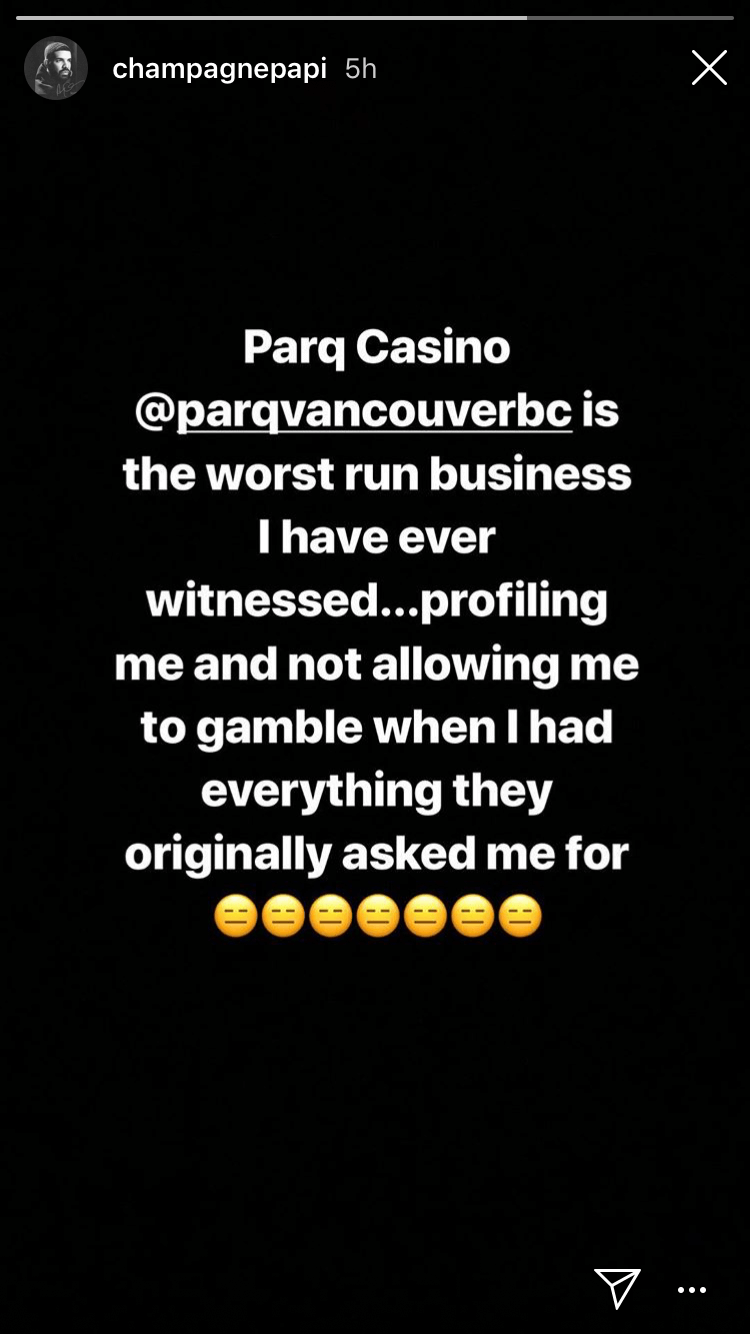 Drake was in Vancouver to perform with Migos at the Rogers Centre as part of the Aubrey and Three Migos Tour. TMZ and other media outlets reached out to both Drake and Parq Vancouver Casino for additional details but neither side has commented on the issue aside from Drake's Instagram story.
It didn't take long for the celebrity's fans to come to his defence. Parq Vancouver Casino's Instagram account is filled with comments from people bashing the business. In just a few hours after Drake's post, there were close to 10,000 comments in Parq's latest Instagram post with Drake's supporters criticizing the casino.
About Parq Vancouver Casino
Parq Casino is located in downtown Vancouver and it was voted as the city's best casino in 2018. It's located between luxury hotels JW Marriott and The DOUGLAS.
About Drake
Drake is arguably the most famous Canadian on the planet. He holds the record for most songs to appear on Billboard's Hot 100 with 186, and he's a sideline regular at just about all Toronto Raptors home games. The NBA team even donned jerseys designed by OVO – Drizzy's personal merchandise line.
This isn't the first time Drake has accused a business of racial profiling. In April 2017, he wrote on Instagram that the Madison Club "the most offensive place I have ever stayed at in my life."
The Madison Club is a residential area within the Coachella Club, and it's just a few kilometres away from Coachella's concert site. He said the staff at the Madison Club "pick and choose who they are going to accommodate based on racial profiling."